Halo-halo recipe
Created by
Peter Kuruvita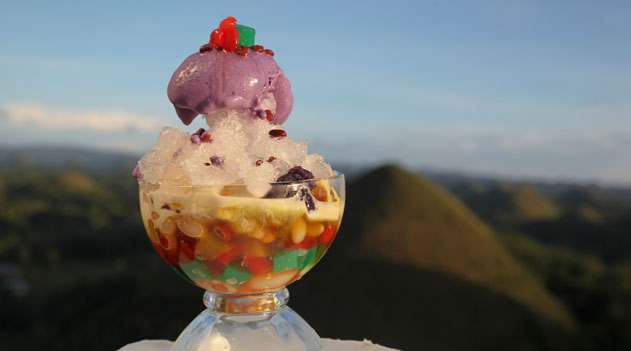 Cuisine:

Filipino

Prep Time: 20 min(s)
Cook Time: 5 min(s)

Serves 4
Peter Kuruvita's recipe for this sweet and fruity Filipino dessert can be made with any seasonal ingredients you like. It's so simple – get the kids to help out – and ideal for chilling out on a hot summer's day.
Ingredients
½ cup tinned sweet corn kernels or cooked chickpeas
1 cup cooked sweet yams or glutinous purple yam (ube halaya), cut into 2.5cm cubes
1 cup canned ripe jackfruit, drained, thinly sliced
2 ripe mangoes, peeled (or 1 cup canned ripe mango), cut into 1cm pieces
1 large ripe banana, sliced
1 cup fresh or canned young shredded coconut
1 cup chopped jelly
2 cups shaved ice
250ml (1 cup) milk
4 scoops of your favourite ice-cream
chopped peanuts, to serve
Jelly
1½ sheets titanium-strength gelatine
1 cup tinned pineapple juice
View conversion table
Preparation
Chilling time: 1 hour

To make the jelly, soak the gelatine in iced water. Heat the pineapple juice in a saucepan over low heat. When the gelatine is soft, drain and squeeze out the excess water. Add to the pan and stir until dissolved. Do not boil. Remove from heat and pour into a small tray, refrigerate until set, then cut into 1cm cubes.

Divide the corn or chickpeas, sweet yams, jackfruit, mango, banana, coconut and jelly among 4 tall glasses. Top each glass with ½ cup shaved ice, 60ml (¼ cup) milk and 1 scoop of ice-cream. Sprinkle with peanuts and serve immediately.

Note
You can eat it as is, or mix the whole concoction before eating. Some of the ingredients above, such as corn or fruits, may be substituted with cherries, crushed pineapple, papaya, or any other ripe fruits in season.

If you enjoyed this Halo-halo recipe then browse more Filipino recipes, dessert recipes, cheese and dairy recipes, child-friendly recipes, easy recipes, quick recipes, fruit recipes, vegetarian recipes and our most popular hainanese chicken rice recipe.
Filipino Restaurants
Displaying 2 of 2 Filipino Restaurants.
PLEASE NOTE: All submitted comments become the property of SBS. We reserve the right to edit and/or amend submitted comments. HTML tags other than paragraph, line break, bold or italics will be removed from your comment.
Featured Food & Recipes
Hot Tips
More
Soy sauce
When buying soy sauce, buy the best quality you can afford.
Glossary
More
Tomatillos
Like a small green tomato only housed in a papery husk, used in Mexican cuisine to make salsas. They are tangier than normal green tomatoes.