Dol sot bibimbap recipe
Created by
Suzanna Kim - Jang Won Restaurant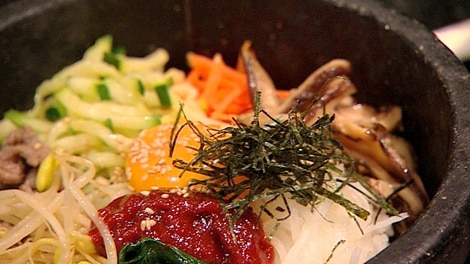 Cuisine:

Korean

Prep Time: 30 min(s)
Cook Time: 45 min(s)

Serves 4
This is the most delicious mix of rice, beef and vegetables cooked with garlic and sesame oil, topped with an egg yolk and gochujang (chilli paste). The ingredients are cooked individually then beautifully arranged in a stone bowl called a dolsot, which is heated until the rice turns golden and crispy on the bottom. You mix everything together when you eat it. You will need four dolsot bowls, available from Korean grocery stores.

The amount of garlic used might seem high but remember that this is a culture in which most people eat seven heads of garlic a week! You can use less garlic if you like but once cooked it is delicious and not overpowering.
Ingredients
2 cups short-grain rice
400 g beef scotch fillet, finely sliced into strips 5 cm long
1 ½ tbsp soy sauce
140 ml sesame oil
3 tbsp crushed garlic
pinch of sugar
salt and pepper
1 cup dried shiitake mushrooms, soaked until soft, finely sliced
2 small carrots, cut into matchsticks
1 small daikon, cut into matchsticks
2 small zucchini, cut into matchsticks
1 bunch spinach, leaves picked
1 generous cup bean sprouts
4 egg yolks
gochujang (chilli paste)
*
4 dol sot stone bowls
*
*
All these items are readily available at any Korean grocery store
.
View conversion table
Preparation
Rinse the rice in cold water and drain, then repeat twice to make sure the grains are thoroughly washed. Put the rice in a saucepan and place a hand flat over the top. Fill with cold water to the top of your hand. Cover with a lid and simmer until the water is absorbed (approximately 20 minutes).

Combine the beef with 1 tablespoon of the soy sauce, a little sesame oil, 3 teaspoons of the garlic, the sugar and a pinch of pepper. Stir-fry until the beef is golden brown and set aside.

Mix the mushrooms with the remaining soy sauce, a little sesame oil, 2 teaspoons of the garlic and pepper and set aside.

Stir-fry the carrot in a little sesame oil with 2 teaspoons of the garlic and a pinch of salt and pepper. Scoop onto a plate and repeat with the daikon and zucchini.

Bring a saucepan of water to the boil and blanch the spinach leaves for 15 seconds, then scoop out, drain, place in a bowl and toss with some sesame oil, a little garlic, and salt and pepper. Repeat with the bean sprouts.

Put a teaspoon of sesame oil in the base of each stone bowl. Put some rice in the bowls and arrange small mounds of beef and vegetables over the top. Gently place an egg yolk in the middle and a teaspoon (or more to taste) of gochujang to the side. Pour another tablespoon of sesame oil around the edge of each bowl.

Place the stone bowls over high heat on the stove for approximately 5 minutes, or until you can hear the rice popping and crackling. Carefully remove the hot bowls from the heat and serve.

SBS cook's notes
Oven temperatures are for conventional; if using fan-forced (convection), reduce the temperature by 20˚C. | We use Australian tablespoons and cups: 1 teaspoon equals 5 ml; 1 tablespoon equals 20 ml; 1 cup equals 250 ml. | All herbs are fresh (unless specified) and cups are lightly packed. | All vegetables are medium size and peeled, unless specified. | All eggs are 55–60 g, unless specified.
If you enjoyed this Dol sot bibimbap recipe then browse more Korean recipes, rice recipes, meat recipes and our most popular hainanese chicken rice recipe.
Korean Restaurants
Displaying 10 of 89 Korean Restaurants.
PLEASE NOTE: All submitted comments become the property of SBS. We reserve the right to edit and/or amend submitted comments. HTML tags other than paragraph, line break, bold or italics will be removed from your comment.
Featured Food & Recipes
Hot Tips
More
Which oil for which type of cooking
Olive oil has well reported health benefits, however it does burn easily and has a strong flavour that can adversely affect your cooking. Oils with a high flash point (that can withstand high temperatures) include canola, sunflower and peanut. Of these canola carries the least flavour.
Glossary
More
Chilli Powder
A powder made from ground dried chillies which varies in heat and flavour depending on the type of chilli used.