Twice-cooked spiced duck recipe
Created by
Peter Kuruvita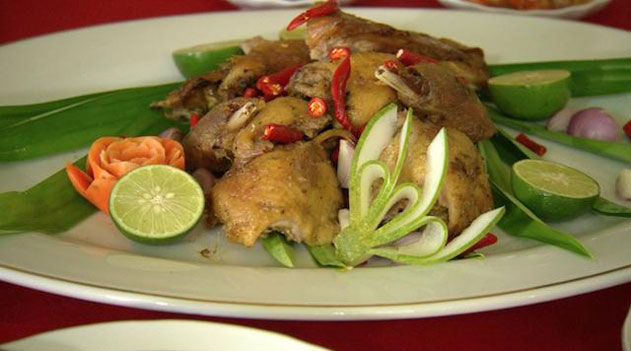 Cuisine:

Indonesian

Serves 4
Ingredients
Spice mix
50g fresh turmeric roots
1 x 2cm piece young ginger
1 stalk lemongrass, white part only
4 candlenuts
6 cloves garlic
2 eschallots
3 Kaffir lime leaves, torn
4 long red chillies
100ml vegetable oil
2 Aylesbury ducks, dressed (about 1.4kg each)
1 tbsp coarse salt
½ tbsp coarsely ground black pepper
2 bunches spinach, roughly chopped
10 bamboo skewers
12 cloves
2 large banana leaves
2 limes, quartered
4 long red chillies, finely chopped
4 golden shallots, quartered
View conversion table
Preparation
Place all ingredients for the spice mix into a mortar and pestle or electric blender and crush or blend to a coarse paste.

Rub the duck inside and out with the salt and pepper, followed by the spice paste. Stuff the inside cavity of the duck with the spinach.

Using the skewers, seal the stomach cavity, leaving the skewers sticking out of the duck.

Stud the skin of the duck evenly with the cloves.

Run the banana leaves over an open flame to soften them and then wrap the duck completely in the leaves, using the protruding skewers to attach and secure the leaves. Place a large pot over medium heat and fill with 5cm of water.

Place a metal or bamboo steamer in the pot and insert the duck. Steam, covered, for 1½ hours. Preheat the oven to 180°C.

Remove the duck from the steamer, place in a large roasting tray and put in the oven for a further 30 minutes, with the breast of the duck exposed.

When the skin is brown and crisp, remove the duck from the oven and cut into 8 pieces.

Present on a banana leaf, garnished with chopped chillies, limes and quartered golden shallots.
If you enjoyed this Twice-cooked spiced duck recipe then browse more Indonesian recipes, meat recipes, entertaining recipes, baking recipes and our most popular hainanese chicken rice recipe.
Indonesian Restaurants
Displaying 10 of 71 Indonesian Restaurants.
PLEASE NOTE: All submitted comments become the property of SBS. We reserve the right to edit and/or amend submitted comments. HTML tags other than paragraph, line break, bold or italics will be removed from your comment.
Featured Food & Recipes
Hot Tips
More
Different paprikas
When using paprika make sure you are using the right variety for the dish you are cooking. The Spanish smoked paprika is ideal for paella, while the Hungarian sweet paprika is quite different in flavour and is ideal for their goulash.
Glossary
More
Fish Herb
Fish herb (Diep Ca & Cang Cua) is considered by some as an acquired taste as it has a definite fishy smell and flavour. Often used in soups.