Dholl puri recipe
Created by
Kavi Hurrydoss - The Meat & Wine Company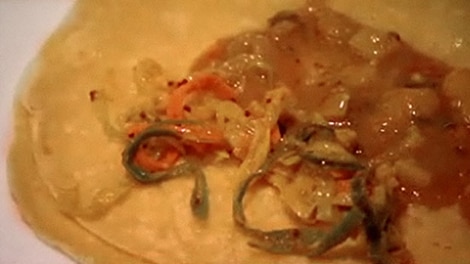 Cuisine:

Mauritian

Prep Time: 15 min(s)
Cook Time: 1 hr(s)

Makes 20–30 flatbreads
These flatbreads have a filling of cooked yellow split peas. They're served warm wrapped around curries, achards (pickled vegetables) and chutneys to make a yummy snack.

You will need to begin this recipe one day ahead.

Ingredients
½ tbsp cumin seeds
250 g yellow split peas, soaked overnight
salt
1 kg plain flour
½ tsp turmeric
400 ml warm water
vegetable oil
View conversion table
Preparation
Toast the cumin seeds in a dry frying pan. Grind in a mortar.

Drain and rinse the peas and boil in fresh water until just tender. Drain well and blend with the cumin in a food processor (the mixture should be like a powder). Add salt to taste.

Place the flour, turmeric and 2 pinches of salt in a large bowl and mix well. Add the water, mix to a smooth dough and knead for about 5 minutes. Cover the dough with a damp cloth and leave for 20–30 minutes.

Form the dough into balls weighing about 60 g. Make an indent in the centre of each ball and stuff with the pea mixture. Seal the dough around the filling. Roll the balls out on a floured surface to very thin rounds.

Brush a frying pan (non-stick is ideal) with oil and cook each dholl puri over high heat for 2 minutes on each side. Before flipping, brush the top with a little oil.

SBS cook's notes
Oven temperatures are for conventional; if using fan-forced (convection), reduce the temperature by 20˚C. | We use Australian tablespoons and cups: 1 teaspoon equals 5 ml; 1 tablespoon equals 20 ml; 1 cup equals 250 ml. | All herbs are fresh (unless specified) and cups are lightly packed. | All vegetables are medium size and peeled, unless specified. | All eggs are 55–60 g, unless specified.
If you enjoyed this Dholl puri recipe then browse more Mauritian recipes, bread recipes and our most popular hainanese chicken rice recipe.
Mauritian Restaurants
Displaying 5 of 5 Mauritian Restaurants.
PLEASE NOTE: All submitted comments become the property of SBS. We reserve the right to edit and/or amend submitted comments. HTML tags other than paragraph, line break, bold or italics will be removed from your comment.
Featured Food & Recipes
Hot Tips
More
Smoking with paperbark (native Aust)
You can use Australian native paperbark in place of baking paper when cooking en papillotte. Simply fold the paperbark around a fillet of fish (including any other herbs and spices) and fold the open ends inwards. Secure with string (as you would tie a birthday present) and cook on the barbecue. Paperbark is not edible.
Glossary
More
Babaganoush
An aubergine puree, made with garlic and Tahini from the Middle East.