Home-brew battered wahoo and cherry guava salad recipe
Created by
Peter Kuruvita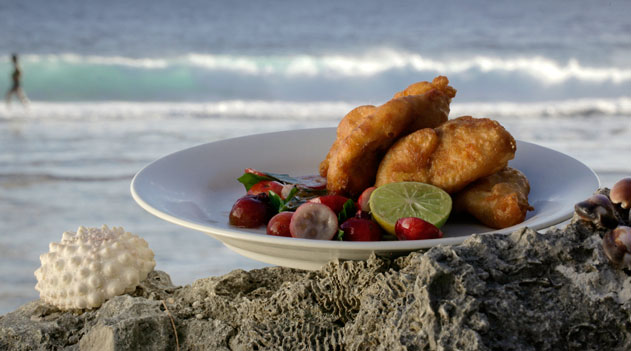 Cuisine:

Indonesian

Serves 6
Ingredients
Canola, grape seed or vegetable oil, for deep-frying
400g wahoo fillet, skin off and bloodline removed, cut into 3cm thick strips
10 cherry guavas or normal ripe guavas, cut in half or smaller, depending on size
Handful basil leaves
Lime wedges, to serve
Batter
3 cups self-raising flour
2 cups plain flour, plus extra, for dusting
1 cup cornflour
100ml vegetable oil
350ml beer
350ml water
Dressing
100ml olive oil
50ml lime juice
2 cloves garlic, crushed
Salt, to taste
View conversion table
Preparation
To make the batter, place all the ingredients in a bowl and whisk until a smooth batter forms. It should have the consistency of thick pancake batter. Cover and refrigerate.

To make the dressing, place all the ingredients in a bowl, season with salt and whisk together.

Fill a large saucepan or wok two thirds full of oil and heat to 180°C.

Working in batches, dust the wahoo in flour, then dip in the batter, allowing the excess to drip away, and then deep-fry, turning occasionally, until golden and crisp. Don't overcrowd the pan or the temperature of the oil will drop, making the fish oily. Drain on paper towel.

To serve, arrange the guava on serving plates and tear some basil over the top. Drizzle with a little vinaigrette, then top with the fish and serve immediately with lime wedges.
If you enjoyed this Home-brew battered wahoo and cherry guava salad recipe then browse more Indonesian recipes, seafood recipes, easy recipes, quick recipes and our most popular hainanese chicken rice recipe.
Indonesian Restaurants
Displaying 10 of 71 Indonesian Restaurants.
PLEASE NOTE: All submitted comments become the property of SBS. We reserve the right to edit and/or amend submitted comments. HTML tags other than paragraph, line break, bold or italics will be removed from your comment.
Featured Food & Recipes
Hot Tips
More
Clarified butter
To make clarified butter gently melt unsalted butter over low heat. After time the butter will form three distinct layers - the foam on top (which is skimmed off and discarded), the milk solids (which will sink to the bottom) and the clarified butter will be left in the middle.
Glossary
More
Moussaka
A dish from Greece, Turkey and the Balkans, made of layers of lamb, slices of aubergine, potatoes and onions and covered with white sauce and cheese.