Banana tart recipe
Created by
Jean-Marc Gooroovadoo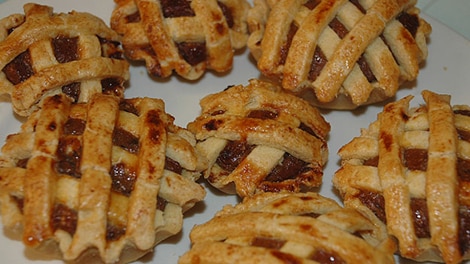 One of the Mauritian top desserts - mashed bananas cooked in shortcrust latticed pastry case.
Ingredients
Pastry
250g plain flour
175g butter
1 egg
A little water

Filling
10 ripe bananas
4 tbsp caster sugar
Parisienne essence
View conversion table
Preparation
Combine flour, butter and egg together to make shortcrust pastry, adding a little water if necessary.

Form into a disc and refrigerate for 1 hour.

To make filling, mash bananas and sugar together in saucepan.

Cook mixture over low heat for 15 minutes, add a couple of drops of parisienne essence for colour and stir well.

Roll pastry out on floured surface and line tart tins, reserving some dough for tops.

Roll out remaining pastry and cut into thin strips. This will form the top of the tarts.

Spoon filling into pastry cases, smooth tops and form lattice pattern with pastry strips over the top of filling.

Brush tops with egg wash and cook in a hot oven for 15 minutes until golden brown.

If you enjoyed this Banana tart recipe then browse more Mauritian recipes, dessert recipes, entertaining recipes and our most popular hainanese chicken rice recipe.
Mauritian Restaurants
Displaying 5 of 5 Mauritian Restaurants.
PLEASE NOTE: All submitted comments become the property of SBS. We reserve the right to edit and/or amend submitted comments. HTML tags other than paragraph, line break, bold or italics will be removed from your comment.
Featured Food & Recipes
Hot Tips
More
Drying mushrooms
Use a brush to clean the mushrooms, cut them into thick slices and spread on a baking tray to bake at a low temperature (35–50°C) for about an hour. Allow the mushrooms to cool at room temperature, place in an airtight container, and store in a cool, dark place.
Glossary
More
Thyme
Thyme is a herb predominantly associated with the Mediterranean. Often used in Mauritian curries and in the many braised French-derived meat dishes.