Silas's chilli coconut prawns recipe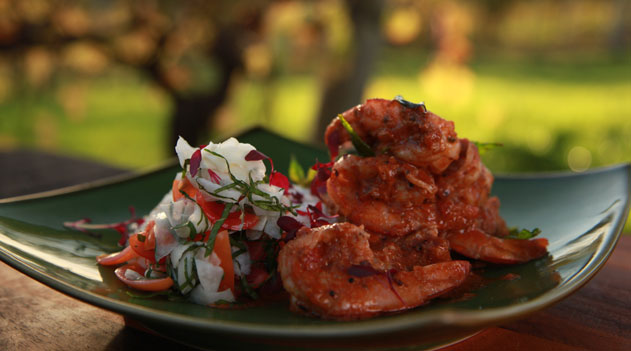 Cuisine:

Modern Australian

Prep Time: 45 min(s)
Cook Time: 45 min(s)

Serves 4
Chef Silas Masih shares one of his favourite dishes from his restaurant, Pepper and Salt, in Denmark, WA.

Wine match Grosset Off Dry Riesling 2011, Clare Valley, SA
This is an intensely spicy dish, with a chilli kick to boot, so finding the right wine is even more important than normal. You don't want a higher alcohol wine, as this will only boost the heat of the dish, so look for a lighter white wine with a hint of sweetness to offset the heat. A tangy white wine with plenty of acid will also act like a squeeze of lemon or lime on the dish – perfect! With all of that in mind, go for this perfectly balanced, floral, zesty Riesling from the king of Clare, Jeffrey Grosset.
-Dan Coward

Ingredients
Tomato base (makes 500ml)
1 tbsp coriander seeds
½ tbsp cumin seeds
2 garlic cloves
4 coriander roots
1 small onion, diced
½ tsp mustard seeds
1 tsp dried chilli flakes
1 tin tomatoes, crushed
½ tsp palm sugar
Coconut prawns
2 tbsp fresh ginger, peeled, chopped
2 tbsp fresh garlic, peeled, chopped
8 small bird's eye chillies, deseeded (optional)
2 tsp ground Szechuan pepper
2 tsp ground fennel seeds
2 tsp ground coriander
1 tsp ground star anise
32 prawns, peeled, deveined, butterflied, tails left on
12 tbsp vegetable oil
24 fresh curry leaves
6 small shallots, peeled, finely diced
700ml coconut cream
500ml tomato base
100ml tamarind pulp
Coarse black pepper
Salt flakes
2½ cups hot water
Fennel, mint and tomato salsa
1 medium fennel, thinly sliced
Mint, thinly sliced
Juice of 1 lemon
2 tomatoes, deseeded, thinly sliced
View conversion table
Preparation
For the tomato base, dry toast the coriander and cumin seeds in a frying pan until fragrant.

In a mortar and pestle, add the seeds, garlic, coriander roots and crush to a paste.

Sauté the onions until translucent. Add the mustard seeds, spice paste, and chilli flakes. Cook for 2 minutes until fragrant. Add the tomatoes. Simmer on a low heat for 15-20 minutes until thickened. Season to taste. Grate the palm sugar into the sauce. Turn the heat off and rest. Sieve the sauce.

To make the coconut prawns, crush the ginger, garlic, chilli and spices in a mortar and pestle to a paste. In a large bowl, fold half the paste mixture in with the prawns and set aside.

Heat half the oil in a large frying pan over a high heat until just smoking. Add the curry leaves and fry. Remove the leaves and set aside for garnish. Add half the quantity of marinated prawns, turn continuously to seal and caramelise. This should take 2-3 minutes. Place this batch on a flat tray in a single layer.

Deglaze the pan with ¼ cup of hot water to remove the caramelised flavours. Spread this over the prawns. Wash and dry the frypan, and repeat with the remaining marinated prawns.

Lower the heat and add 2 tablespoons of oil. Place the diced shallot and remaining spice paste into the pan, cook for 5-7 minutes until softened and golden. Add one cup of water from the kettle and bring to simmer until reduced by half.

Add the coconut cream, tomato base and tamarind pulp. Simmer for 5 minutes until the tomato base is cooked through and the sauce has thickened. Season with pepper and salt.

Place the prawns into the sauce and simmer to cook through.

Serve the chilli coconut prawns over steamed rice with fresh fennel, mint and tomato salsa. Scatter over the curry leaves.

Note: The tomato-based sauce will last for 2 weeks in a sealed, airtight container.
If you enjoyed this Silas's chilli coconut prawns recipe then browse more Modern Australian recipes, seafood recipes, entertaining recipes and our most popular hainanese chicken rice recipe.
Modern Australian Restaurants
Displaying 10 of 601 Modern Australian Restaurants.
PLEASE NOTE: All submitted comments become the property of SBS. We reserve the right to edit and/or amend submitted comments. HTML tags other than paragraph, line break, bold or italics will be removed from your comment.
Featured Food & Recipes
Hot Tips
More
Black Forest Cake
A pinch of salt in the chocolate, custard mousse mixture will bring out the flavour of the chocolate
Glossary
More
Pepperberry
A native Australian berry with a pepper-y flavour