Seared calamari salad recipe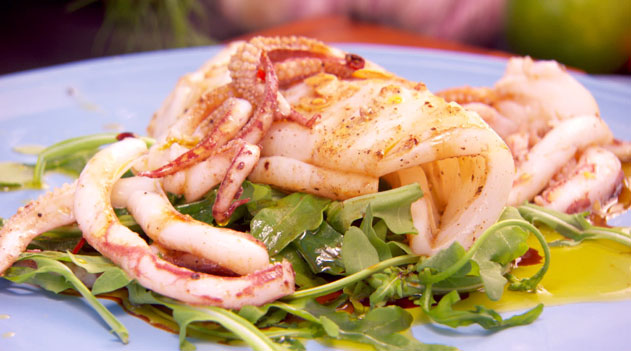 Cuisine:

Modern Australian

Prep Time: 10 min(s)
Cook Time: 5 min(s)

Serves 4 as an entree
Australia's best known providore, Simon Johnson, says there is nothing better than good food, great friends a good bottle of wine. Simon shares a few dishes using the very best olive oil while cooking from his own private yacht.

Wine match O'Leary Walker Sauvignon Blanc 2012, Adelaide Hills, SA
This fresh, simple and taste-bud tingling dish deserves a wine of a similar style. The calamari is the star here, so make sure the wine doesn't overwhelm the flavour. This leads us to a lighter white wine, with plenty of acidity, which will act like an extra squeeze of lemon over the dish. This is the perfect occasion for a sauvignon blanc, and the bottle for the job is the vibrant and zippy O'Leary Walker Sauvignon Blanc from the Adelaide Hills. The deliciously fresh 2012 has just been released by the winery, but you might still be lucky and find a bottle of the trophy-winning 2011 vintage in the shops.
-Dan Coward

Ingredients
5 whole calamari, cleaned, scored
2 garlic cloves, finely chopped
1 long red chilli, finely chopped
Colonna extra virgin olive oil
Pinch of salt and cracked black pepper
300g rocket
Balsamic vinegar (aged La Vecchia Dispensa)
1 lime, cut in half
View conversion table
Preparation
In a bowl place the calamari, garlic and chilli. Drizzle with olive oil, salt and pepper.

Heat up the barbecue as it must be very hot for this dish.

Sear the marinated calamari for about 1 minute on each side (maybe a little longer if the calamari is a little thick).

Serve in a bowl on top of the rocket and drizzle with the aged balsamic vinegar, olive oil and a squeeze of lime.
If you enjoyed this Seared calamari salad recipe then browse more Modern Australian recipes, seafood recipes, summer christmas feast recipes, easy recipes, quick recipes and our most popular hainanese chicken rice recipe.
Modern Australian Restaurants
Displaying 10 of 601 Modern Australian Restaurants.
PLEASE NOTE: All submitted comments become the property of SBS. We reserve the right to edit and/or amend submitted comments. HTML tags other than paragraph, line break, bold or italics will be removed from your comment.
Featured Food & Recipes
Hot Tips
More
Chopping an onion
Cut the onion it in half across the base (leaving a portion of root on each half - this will help keep the onion together while slicing), peel the onion and place cut side down. Make multiple cuts long ways from top to bottom but not through the root at the end. The more cuts, the finer the dice.
Glossary
More
Halibut
Flat sea fish available mostly in steaks, fillets and cutlets. It has firm white flesh and best prepared with a sauce.