Blackened miso coral trout recipe
Created by
Spencer Patrick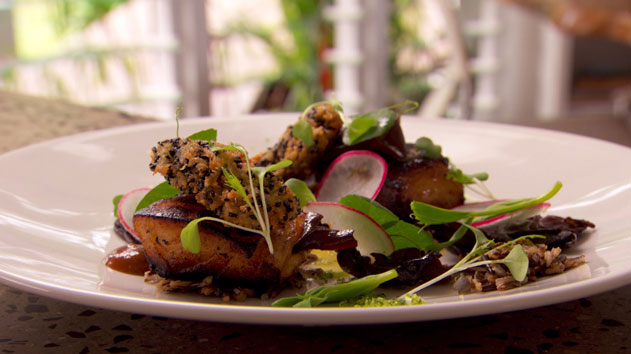 Cuisine:

Modern Australian

Prep Time: 10 hr(s)
Cook Time: 45 min(s)

Serves 4
Inspired by Nobu's miso cod, chef Spencer Patrick cooks us his signature dish using local produce from Port Douglas, and line caught coral trout.

Drinks match House of Arras Blanc de Blancs 2001, Tas
This is one of those occasions when you can really match the luxury on the plate with something similar in the glass. Sparkling wine is such a great partner for intense, yet elegant, seafood dishes like this. To match the understated richness of the fish, the mushroom and the oyster, I've gone for a decadent sparkling chardonnay from one of Australia's very top producers. The combination of 100% Tasmanian chardonnay and extended ageing on yeast lees (hence the vintage!) adds layers of savoury complexity and opulence. The dish certainly deserves such extravagance… but do your guests? This is special occasion time.
-Dan Coward

Ingredients
Marinade
7 tbsp white miso
6 tbsp caster sugar
150ml sake
150ml Chinese Shaoxing cooking wine
4 x 250g coral trout portions skinned, deboned
Rice and funghi
100g wild rice
50g unsalted butter
Sea salt
100g dried black funghi
Crumbed oysters
2eggs, whisked
Splash of milk
1 cup panko breadcrumbs
2 tbsp black sesame seeds
8 fresh oysters, shucked
½ cup plain flour
Finger lime beurre blanc
2 French shallots, sliced
100g ginger, sliced
1 garlic clove, sliced
200ml sake
50ml thickened cream
150ml unsalted butter, chilled
1 kaffir lime leaf
1 finger lime, halved
View conversion table
Preparation
To make the marinade, place all the ingredients into a saucepan. Cook over a low heat for 5 minutes and allow to cool. Immerse the coral trout fillets in the marinade and refrigerate in sealed bag in the fridge for 12 hours.

To make the rice and funghi, place the wild rice into a saucepan. Cover with water and cook until tender. Strain, stir in half the butter and season with salt.

Rehydrate the funghi by covering with hot water and allow to sit for 15 minutes. Squeeze dry. In a fry pan, gently sauté the funghi in the remaining butter. Season with sea salt.

To make the crumbed oysters, whisk the eggs and milk. Mix the breadcrumbs and black sesame seeds together. Coat the oysters in the flour, egg and breadcrumb mix. Deep-fry for 30 seconds or until golden.

To make the finger lime buerre blanc, slowly sweat off the shallots, ginger and garlic in a little oil. Do not allow to colour. Add the sake and bring to the boil. Reduce to 50mls and add the cream. Whisk in the cold unsalted butter slowly to form an emulsion. Add the bruised kaffir lime leaf and scrape in the jewels from the finger lime.

Remove the fish from the marinade. In a small pan, gently reduce the leftover marinade by half to make your miso concentrate.

Heat a non-stick pan over a medium heat with a little peanut oil. Scrape most of the marinade off the fillets and add to pan. Cook until caramelised and blackened on all four sides.

Serve the blackened cod with the wild rice, black fungi, crumbed oysters and miso concentrate. Dress with the finger lime beurre blanc. Garnish with shiso leaves and sliced radish.
If you enjoyed this Blackened miso coral trout recipe then browse more Modern Australian recipes, seafood recipes, entertaining recipes, prepare ingredients in advance recipes and our most popular hainanese chicken rice recipe.
Modern Australian Restaurants
Displaying 10 of 601 Modern Australian Restaurants.
PLEASE NOTE: All submitted comments become the property of SBS. We reserve the right to edit and/or amend submitted comments. HTML tags other than paragraph, line break, bold or italics will be removed from your comment.
Featured Food & Recipes
Hot Tips
More
Deep-frying
Make sure the oil isn't too hot or the food will brown quickly without cooking fully on the inside. This is particularly important when making bulgur kofta. On the flip side, overcrowding the fryer can cool the oil too much and result in soggy, greasy food.
Glossary
More
Agar-Agar
Based on seaweed and used as a stabiliser or thickener in many food products, agar-agar is a vegetarian alternative to gelatine. It is sold in many of the large supermarkets in powder form, as flakes and as bars.