Darryl's Daintree chocolate crème brulee recipe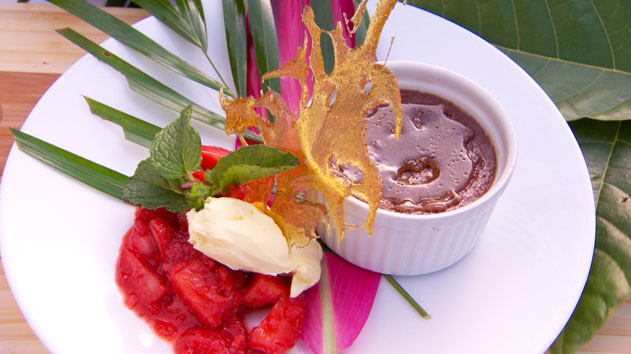 Cuisine:

Modern Australian

Prep Time: 15 min(s)
Cook Time: 40 min(s)

Serves 4
Daryl Kirk demonstrates his passion for cocoa beans a different way, by cooking his famous chocolate crème brulee in a barbecue.

Wine match Seppeltsfield No 7 Tawny NV, Barossa Valley, SA
Chocolate is always an interesting one. It's coming at the end of the meal, when you're full of food and, often, red wine. For many, continuing with red wine is a safe ploy and when it's bitter, dark chocolate in play then a rich, fruity red or sparkling red is a strong choice. When it's a creamier, sweeter proposition like this, then you do need a bit more sweetness in your accompanying drink. The Portuguese might serve a chilled tawny port in this situation and I think it's a smart play. There's sweetness, but also acid balance, and refreshment value as well. Tawny port isn't always warm, sweet and from a large flagon. Try this from contemporary example from Seppeltsfield as a delightful alternative.
-Dan Coward

Ingredients
100g egg yolks (5 eggs)
75g caster sugar
500ml thickened cream
2 Daintree vanilla beans, halved
Pinch of salt
100g dark chocolate, chopped
Garnish
1 punnet strawberries
1 cup caster sugar
View conversion table
Preparation
Preheat the oven or covered barbecue to 150°C.

Mix (do not whisk) the egg yolks and sugar. Heat the cream to scalding point, stir in the vanilla beans and allow to cool slightly. Gradually pour into the egg mixture, stirring continuously. Add the salt. Slowly add the chocolate to the mixture and stir until all the chocolate has melted.

Pour the mixture into ramekins. Pour in enough boiling water to come three-quarters of the way up the sides. Cook for 30 minutes or until just set.

When cooked, set aside and allow to cool at room temperature before placing in the fridge. These can be made a day in advance.

To make the garnish, mash one-third of the strawberries. Add 2 teaspoons of the sugar.

Melt the remaining sugar over a medium heat until deep golden brown, then carefully spoon onto the brulees. Pour the rest onto a baking tray lined with baking paper and allow to set for the garnish.

Garnish the chocolate crème brulees with the sugar strawberries and serve with vanilla praline and a dollop of Jersey or whipped cream.
If you enjoyed this Darryl's Daintree chocolate crème brulee recipe then browse more Modern Australian recipes, dessert recipes, chocolate recipes, baking recipes and our most popular hainanese chicken rice recipe.
Modern Australian Restaurants
Displaying 10 of 601 Modern Australian Restaurants.
PLEASE NOTE: All submitted comments become the property of SBS. We reserve the right to edit and/or amend submitted comments. HTML tags other than paragraph, line break, bold or italics will be removed from your comment.
Featured Food & Recipes
Hot Tips
More
Making a cartouche
A cartouche is a circle of baking paper placed on top of a dish to prevent it forming a skin or drying out. To make a cartouche take a square of baking paper slightly larger than your pan, fold in half and in half again, keep folding the same way so that one corner remains the centre point of the paper. When you have folded it over a few times cut off the edge to form a circle.
Glossary
More
Arborio Rice
A medium- to long-grain rice, it absorbs a lot of cooking liquid yet still retains a good bite in texture. This classic risotto rice hails from the north Italian region of Piedmont.