Zuppa di pesce al'Abruzzese recipe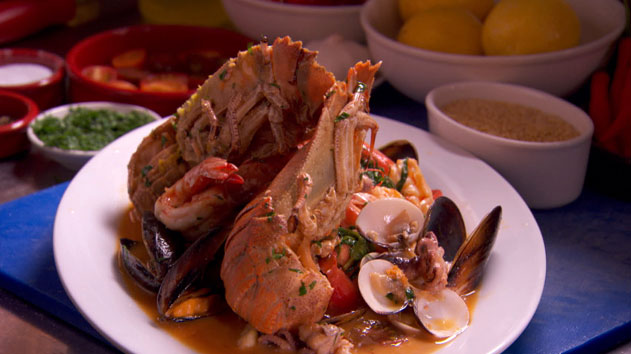 Cuisine:

Italian

Prep Time: 15 min(s)
Cook Time: 30 min(s)

Serves 4
Along the Adriatic coast of Italy there are many versions of this dish. This one is my version from my region of Abruzzo. It's not quite a soup and not cooked as a stew — we call it zuppa. Italian fish stock, called brodo, is much lighter than French. By not overworking the ingredients you get a wonderful freshness of flavour.


Wine match Oliver's Taranga Small Batch Fiano 2012, McLaren Vale, SA
When I think of a coastal Italian fish dish and overlay a map of Australia, the region which best matches it for me is the Mediterranean-facing McLaren Vale. Famous for shiraz, cabernet sauvignon and grenache, it's an increasingly exciting place for late ripening Italian varieties like Vermentino, Fiano, Sangiovese and Nero d'Avola. This means they can withstand the hot summer highs and develop delicate flavours later in the season when it has cooled a little. This almost stew/almost soup packs a flavourful punch and is quite a chunky beast. An accompanying white wine should have the freshness of a fruity, nutty white, whilst also having the medium body and texture to hold its own in the mouth. This small production gem from Oliver's Taranga does exactly that.
-Dan Coward

Ingredients
½ cup good olive oil
4 whole garlic cloves, peeled
¼ baby octopus
4 extra large green bug tails, halved
200g firm white-fleshed fresh fish (we use barramundi)
8 green prawns (size U10)
¼ kg black mussels
¼ kg clams (in shells)
200g Tasmanian salmon or ocean trout
Salt and pepper
1 whole large red chilli (optional)
150ml dry white wine
150ml good fish stock
1 cup halved cherry tomatoes
¼ bunch basil (torn)
¼ bunch continental parsley (chopped)
Zest of ½ lemon
View conversion table
Preparation
Cover the bottom of the large pan generously with olive oil and heat. Place the garlic in the hot oil, making sure the flame is not so high as to burn the garlic, and cook to golden. Remove the garlic and set aside.

Add the octopus and fry until brown. Set aside. Add the bugs, fry for 3 minutes and set aside. Add the white fish and fry for 3 minutes, turning once or twice depending on the thickness. Set aside. Add the prawns and continue frying a further 2-3 minutes. Set aside. Add the mussels and clams, cook for a few minutes and set aside. Add the salmon and season with salt and pepper, adding chilli if desired. Add the seafood back to the pan, together with the garlic, wine and stock.

Cover and cook on a reasonably high flame so as to reduce the liquid by half. Stir gently to prevent sticking.

Add the cherry tomatoes, basil, parsley and lemon zest a few minutes before cooking is finished, to retain the freshness and fragrance of the herbs. Stir the 'soup'.

Serve with risoni or fregola (Sardinian couscous).
If you enjoyed this Zuppa di pesce al'Abruzzese recipe then browse more Italian recipes, soup recipes, seafood recipes, entertaining recipes and our most popular hainanese chicken rice recipe.
Italian Restaurants
Displaying 10 of 2165 Italian Restaurants.
PLEASE NOTE: All submitted comments become the property of SBS. We reserve the right to edit and/or amend submitted comments. HTML tags other than paragraph, line break, bold or italics will be removed from your comment.
Featured Food & Recipes
Hot Tips
More
Matzoh balls
Keeping your hands moist when rolling Matzoh balls makes it easier to handle the sticky dough.
Glossary
More
Mezza
Mezza is the Lebanese version of antipasto. Small snack sized portions may include; labneh, sausages, fattoush, tabouleh, hommus and baba ganoush.