Baby potatoes cooked in aromates and clay recipe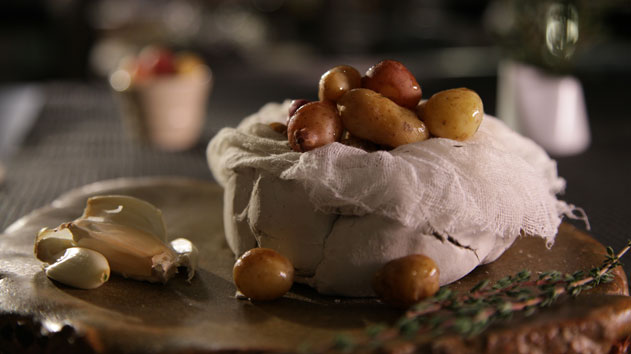 Cuisine:

Modern Australian

Prep Time: 15 min(s)
Cook Time: 30 min(s)

Serves 2
Taking inspiration from his local potato farmers, Norman and Robyn, Justin North uses their baby potatoes, as small as the size of your fingernail to create this exciting dish. Crack the clay at the table to reveal your potato surprise.

Wine match Centennial Vineyards Blanc de Blancs NV, Southern Highlands, NSW
What a cool-looking dish. Of course, it could form part of a main meal, presented and opened at the table, but I reckon it would make even more visual and tactile impact at the aperitif stage of the night, and the potatoes are small enough not to ruin the appetite. In that case, a sparkling pinot noir chardonnay blend will suit well; the salty potatoes will love the crisp clean lines of some top bubbly. Let's stay local to the Highlands and go for the intense and citrus-packed Centennial Vineyards Blanc de Blancs.
-Dan Coward

Ingredients
1 tbsp rendered duck fat
2 cups thumbnail-sized potatoes, or baby potatoes, cut into 1½cm cubes, skin on, blanched
3 garlic cloves, crushed
4 sprigs thyme
Pinch of flake salt
6 slices fresh black truffle (if in season)
1 piece muslin cloth
350g paper clay
View conversion table
Preparation
Preheat the oven to 190°C.

Heat a fry pan over a medium heat. Add the duck fat and potatoes and sauté for a couple of minutes. Add the garlic and thyme, a good pinch of salt, and shaved black truffle if you're using it.

On a floured surface, roll out the clay on your work bench to about 5mm thick and large enough to encase the potatoes. Line the clay with muslin cloth (doubled over) to protect the potatoes.

Add the contents from the pan to the clay and wrap securely to a neat parcel. Place on an ovenproof tray and bake for 30 minutes.

To serve, crack open the clay parcel at the table in front of your guests to reveal the potatoes and heady aroma.

Note: Paper clay can be bought from ceramic shops. The name of the paper clay brand is Keane Ceramics and can be bought from Brookvale Ceramics, 11/9 Powells Road, Brookvale, NSW, phone: (02) 9905 0264.
If you enjoyed this Baby potatoes cooked in aromates and clay recipe then browse more Modern Australian recipes, side dish recipes, entertaining recipes, baking recipes and our most popular hainanese chicken rice recipe.
Modern Australian Restaurants
Displaying 10 of 601 Modern Australian Restaurants.
PLEASE NOTE: All submitted comments become the property of SBS. We reserve the right to edit and/or amend submitted comments. HTML tags other than paragraph, line break, bold or italics will be removed from your comment.
Featured Food & Recipes
Hot Tips
More
De-glazing a pan
Adding liquid (such as stock or water) to a pan where food has been sautéed or roasted will help to dissolve the caramelised juices stuck to the bottom. This is a great way to make gravy as it allows for the flavours of the roast to permeate the sauce.
Glossary
More
Manakra
A semi circular tool used for hollowing out vegetables like zucchini.