Roast duck with mulberry molasses and pinot noir recipe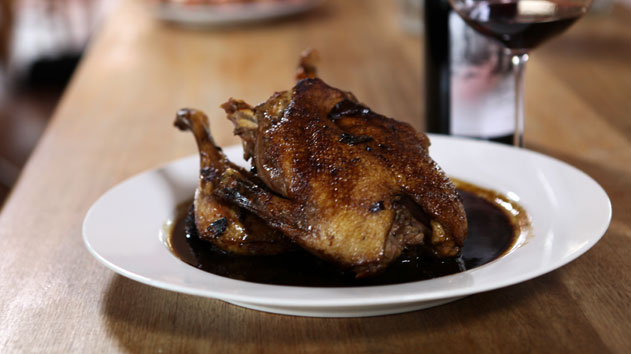 Cuisine:

Modern Australian

Prep Time: 20 min(s)
Cook Time: 1 hr(s) 30 min(s)

Serves 4
The important thing with roasting duck is that the legs and breasts cook very differently, so they shouldn't be roasted together. This recipe separates these cuts for optimal cooking and uses the classic match of duck and pinot noir. Together with the mulberry molasses this dish creates a balance of fruit flavours with the savoury characteristics of the pinot noir.

Wine match St Erth Pinot Noir 2010, Geelong, Vic
A double challenge here from Adam: to select a wine to cook with that you are also happy to drink. So we're looking for a good value pinot, as you'll probably need a couple of bottles for this shindig. There are some punchy flavours in the dish, so it needs to be at least medium bodied with good fruit intensity. A likely suspect that I tried recently is the $15 St Erth Pinot Noir 2010 from Geelong. Generous red fruit, a hint of savoury and satisfying texture – perfect.
-Dan Coward

Ingredients
1 whole duck (about 2.2kg)
½ orange, zested with a peeler
5 shallots, roughly chopped (or 3 brown onions)
2 sprigs thyme
3 star anise
Pinch of sea salt
2 tbsp olive oil
400ml red wine (preferably pinot noir)
100ml mulberry molasses
View conversion table
Preparation
Preheat the oven to 190°C.

Remove the duck wings at the winglets and remove the legs at the thigh joint. Place them in a large roasting pan. Remove the wish bone. Holding the duck upright at the top of the carcass, run your cleaver down the backbone to remove the backbone in one piece, keeping the crown intact. Set the crown aside. Using your cleaver, roughly chop the carcass into pieces and add to the roasting pan — these parts of the duck will be used to make the sauce.

In a mortar and pestle, add the orange zest, shallots, thyme, star anise and sea salt. Lightly pound together. Rub the mixture inside the cavity, and over the duck legs. Season with salt. Roast for 1 hour.

Season the crown. While the legs are roasting, use a medium-sized pan to fry the crown on all sides in olive oil until the skin is well browned. Set aside.

In the same pan, pour in the red wine and molasses to deglaze and collect any of the flavour left from the crown. After the legs have been roasting for 1 hour, pour off any collected fat and juices.

Add the crown to the roasting tray and pour in the red wine and molasses sauce. Roast for a further 15 minutes. Remove the legs and crown. Cover with aluminum foil and rest in a warm place for 20 minutes.

Place the roasting pan with the chopped carcass on the stove and continue to reduce the sauce until slightly thickened and sticky. You can reintroduce any duck juices that have separated from the duck fat or collected around the resting duck. Strain the sauce and serve with the crown and legs.

Note: Mulberry molasses can be found in most Turkish or Greek delis.
If you enjoyed this Roast duck with mulberry molasses and pinot noir recipe then browse more Modern Australian recipes, meat recipes, baking recipes and our most popular hainanese chicken rice recipe.
Modern Australian Restaurants
Displaying 10 of 601 Modern Australian Restaurants.
PLEASE NOTE: All submitted comments become the property of SBS. We reserve the right to edit and/or amend submitted comments. HTML tags other than paragraph, line break, bold or italics will be removed from your comment.
Featured Food & Recipes
Hot Tips
More
Asado
Once the coals have burnt down to embers, cover the meat with newspaper and turn the meat every 15 minutes.
Glossary
More
Vichyssoise
A soup made from potatoes, leeks and cream, served cold, garnished with chopped chives. The name is also used to refer to any cold soup based on potatoes and another vegetable.