Roast pumpkin and shallots with fennel, curry leaves and goat's cheese recipe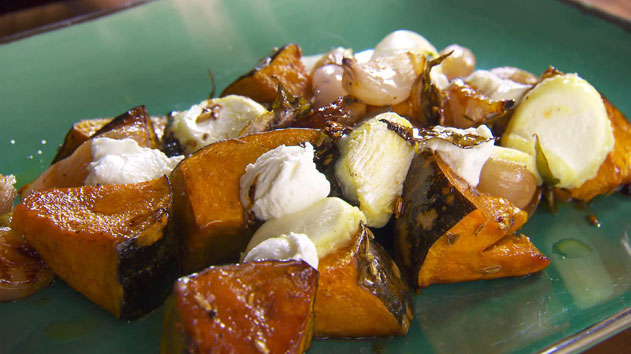 Cuisine:

Modern Australian

Prep Time: 10 min(s)
Cook Time: 50 min(s)

Serves 2
In an old shearer's quarters, Adam uses fresh curry leaves to compliment the goat's cheese in this recipe, producing a smoky, earthy flavour. Together with the caramelised pumpkin and shallots, the strong goat's cheese and mild goats curd provide a beautiful balance of flavours.

Wine match Meerea Park Terracotta Semillon 2006, Hunter Valley, NSW
This dish is all about comforting, wintry food, with the caramelised vegetables offering sweetness as a counterpoint to the salty, almost acid tang of the goats' cheese and curd. With the fennel seeds and the curry leaves in there, too, there are some wonderful flavours at play. It's quite a rich dish, so you'll want a wine with a bit of body and texture, but not too much oak. This would be a good time to pull out an aged semillon, like this recent Hunter Valley Wine Show multi trophy-winner from Meerea Park. It's gained a bit of toast with age to round out the natural citrus flavours, making it a great wine for this sort of occasion.
-Dan Coward

Ingredients
¼ Japanese pumpkin
2 tbsp olive oil
1 tsp fennel seeds
1 tbsp sherry vinegar
1 tsp honey
1 handful curry leaves
Sea salt and black pepper
6-8 shallots, peeled, left whole
Goats' cheese
Goats' curd
View conversion table
Preparation
Preheat the oven to 180°C.

Remove the seeds from the pumpkin and chop into large chunks or crescents, leaving the skin on.

Mix the olive oil, fennel seeds, vinegar, honey and curry leaves together. Season with salt and pepper. Toss the pumpkin and shallots through the mixture and transfer to a large roasting tray.

Roast for 45 minutes or until the shallots and pumpkin are well caramelised. Remove from the oven, add the goats' cheese and return to the oven for a further 5 minutes.

When the goats' cheese has melted, transfer to a serving tray and dot with small pieces of goats' curd.
If you enjoyed this Roast pumpkin and shallots with fennel, curry leaves and goat's cheese recipe then browse more Modern Australian recipes, side dish recipes, vegetarian recipes, easy recipes, baking recipes and our most popular hainanese chicken rice recipe.
Modern Australian Restaurants
Displaying 10 of 601 Modern Australian Restaurants.
PLEASE NOTE: All submitted comments become the property of SBS. We reserve the right to edit and/or amend submitted comments. HTML tags other than paragraph, line break, bold or italics will be removed from your comment.
Featured Food & Recipes
Hot Tips
More
Berbere substitution
When making Doro Wat, about 4 tablespoons of Berebere, an extremely hot Ethiopian red pepper mixture, is used in each recipe. You can substitute a combination of cayenne pepper and paprika (which is not Ethiopian) to replicate the characteristic dark color and flavor.
Glossary
More
Agar-Agar
Based on seaweed and used as a stabiliser or thickener in many food products, agar-agar is a vegetarian alternative to gelatine. It is sold in many of the large supermarkets in powder form, as flakes and as bars.