Garlic and garfish over coals recipe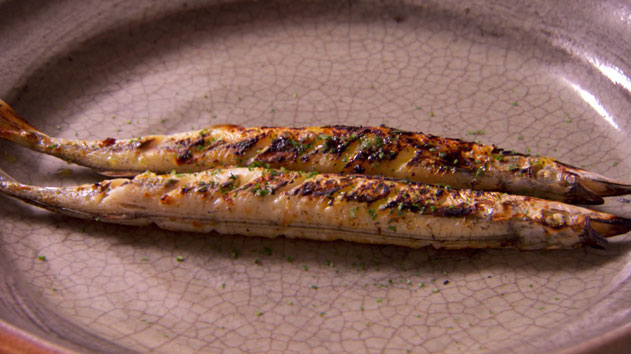 Cuisine:

Modern Australian

Prep Time: 2 hr(s)
Cook Time: 5 min(s)

Serves 1
Chef Ryan Squires is known for his fine dining food in Brisbane at his restaurant, Esquire. But today he shows us how he likes to cook at home, sharing a simple fish recipe using his favourite cooking tool — the Hibachi Japanese barbecue.

Drink match Oliver's Taranga Vermentino 2012, McLaren Vale, SA
When fish is done this simply, the only option is a light, bright white wine that sings out freshness with its acid zing and citrus tang. Although this dish uses a Japanese cooking technique, I'm going to head to McLaren Vale, where fresh food and Mediterranean-style wines happily live side by side. Vermentino, most famously from Sardinia, has found a home there and the crisp, no-nonsense acidity and ripe citrus are the perfect match for this beautiful fish dish. A refreshing white, like this Oliver's Taranga Vermentino, alongside fresh fish has got to be one of life's great pleasures.
-Dan Coward

Ingredients
2 fresh cleaned garfish
2 tsp minced garlic
Fresh olive oil
Salt
½ cup parsley, chopped
View conversion table
Preparation
Macerate the garfish with the garlic and olive oil for at least 2 hours.

Heat up the coals in a Hibachi Japanese BBQ.

Place the garfish on very hot grill with a small amount of olive oil. Add the fish to the grill and quickly char. Remove and season with salt and the chopped parsley.

Best consumed straight off the grill.

If you enjoyed this Garlic and garfish over coals recipe then browse more Modern Australian recipes, barbecue recipes, seafood recipes, easy recipes, prepare ingredients in advance recipes and our most popular hainanese chicken rice recipe.
Modern Australian Restaurants
Displaying 10 of 601 Modern Australian Restaurants.
PLEASE NOTE: All submitted comments become the property of SBS. We reserve the right to edit and/or amend submitted comments. HTML tags other than paragraph, line break, bold or italics will be removed from your comment.
Featured Food & Recipes
Hot Tips
More
Seasoning cast iron
Seasoning a new cast iron frying pan will help to keep it in good condition and help to avoid odours and flavours sticking to the pan. Coat the inside of the pan in oil and place in a hot oven for 30 - 60 minutes. Allow it to cool before wiping it clean.
Glossary
More
Kirsch
From the German word for "cherry", a clear cherry schnapps.