Smoked mullet roe, cured milt, sorrel granita and ricotta recipe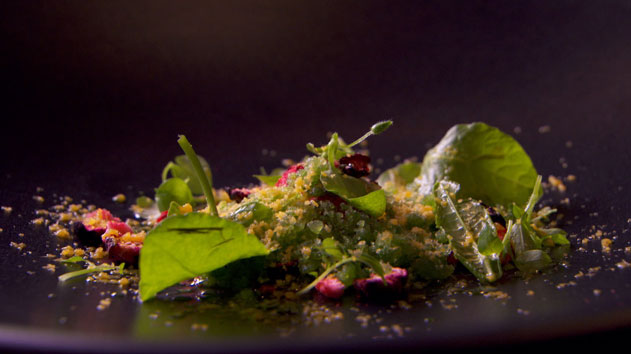 Cuisine:

Modern Australian

Prep Time: 2 hr(s)
Cook Time: 8 hr(s)

Serves 4
Chef Ryan Squires of Esquire restaurant in Brisbane uses different flavours, textures and temperatures to create this masterpiece using locally caught mullet.

Wine match Dal Zotto Pucino Prosecco NV, King Valley, Vic
Such a complex, delicate and downright intriguing set of flavours deserves the deftest of touches on the drinks side. You'd be okay with a really light, crisp white, like a young Hunter Semillon or a King Valley pinot grigio. They wouldn't intrude on the main event too much and their citrus components would provide nice accents. I think your best bet, though, would be to go for a light-and-fresh sparkling wine. This prosecco from King Valley masters, Dal Zotto, is soft, approachable and not overly complex or powerful. It's light airy, playful and citrus-infused – perfect for this flavour combination.
-Dan Coward
Ingredients
25g salt
500ml water
2 sacks fresh mullet roe
2lb fresh mullet milt
Hickory wood chips
500g fresh sorrel
Ice
20ml sugar syrup
Fresh lemon juice
50ml apple juice
900ml milk
6 tbsp cream
2 pinches salt
½ pinch sugar
12 tsp water
½ tsp rennet
View conversion table
Preparation
Mix the salt with the water. Place the roe and milt in separate baths of brine. Leave the roe in the brine for 1½ hours. Leave the milt in the brine for 30 minutes.

Upon removing the roe and milt from the brine, pat dry well and leave in the fridge until ready for smoking.

In a cold smoker, smoke the roe with the hickory for at least 5-8 hours.

Blend the sorrel with a little ice and the sugar syrup. Add the lemon juice, apple juice and salt to taste. Once blended, strain in a shallow dish and freeze. Once frozen, scrape with a fork to make a granita texture. Leave in the freezer until needed.

Mix the milk, cream, salt and sugar. Reserve 2 tablespoons, and then bring the rest of the mix up to 90°C. Bring back down to 45°C. Mix the 12 teaspoons of water with the rennet and add to the milk and cream mix. Set aside and leave to set over the next 1 hour.

Cut the cheese into large 2cm cubes so the whey is released. Place in cheesecloth and let the whey drain overnight, hanging in the cloth. Keep the whey for another use.

Season the ricotta with the remaining cream and season if needed. Use within 4 days.

Once the roe is cured and smoked, and the milt is firm to touch, assemble as desired.

Fresh berries are also nice added to this dish.
If you enjoyed this Smoked mullet roe, cured milt, sorrel granita and ricotta recipe then browse more Modern Australian recipes, seafood recipes, prepare ingredients in advance recipes and our most popular hainanese chicken rice recipe.
Modern Australian Restaurants
Displaying 10 of 601 Modern Australian Restaurants.
PLEASE NOTE: All submitted comments become the property of SBS. We reserve the right to edit and/or amend submitted comments. HTML tags other than paragraph, line break, bold or italics will be removed from your comment.
Featured Food & Recipes
Hot Tips
More
Adding vegemite to gravy
Adding a tablespoon of vegemite while you are making gravy will impart the smoky, meaty flavour into the sauce.
Glossary
More
Argan Oil
Oil from the Argan tree, which is indigenous to Morocco. Related to the olive tree but has a distinct flavour of its own.