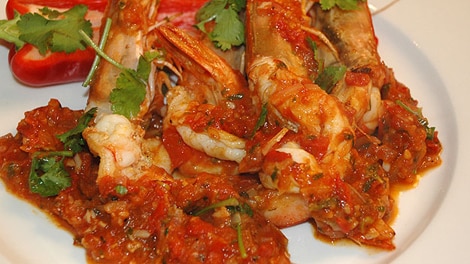 Cuisine:

Mauritian

Prep Time: 10 min(s)
Cook Time: 15 min(s)

Serves 4
A simple recipe of prawns cooked in Mauritius' favourite spicy tomato sauce.

Ingredients
olive oil
1 red onion, chopped
1 tbsp finely chopped garlic
125 ml white wine
500 g tomatoes, peeled and chopped
1 tbsp ground cumin
1 tsp sweet paprika
1 tsp salt
1 tsp white pepper
2 small red or green chillies, finely chopped
½ bunch flat-leaf parsley, finely chopped
2 thyme sprigs, leaves picked
1 kg green king prawns, shelled, heads and tails intact
½ bunch coriander, chopped
View conversion table
Preparation
Heat 2 tablespoons of olive oil in a saucepan over medium heat. Add the onion and half the garlic and fry until golden. Pour in half the wine to soften the onion, then add the tomatoes and cook for a few minutes over high heat to reduce. Stir in the cumin, paprika, salt and pepper and an extra drizzle of olive oil. Add the chilli, parsley and thyme and remove from the heat.

Heat a little more oil in a frying pan and fry the remaining garlic until fragrant. Add the prawns, season with pepper and cook for 2 minutes. Pour in the remaining wine to deglaze the pan.

Tip the prawns into the rougaille (tomato sauce) and stir through the coriander.

SBS cook's notes
Oven temperatures are for conventional; if using fan-forced (convection), reduce the temperature by 20˚C. | We use Australian tablespoons and cups: 1 teaspoon equals 5 ml; 1 tablespoon equals 20 ml; 1 cup equals 250 ml. | All herbs are fresh (unless specified) and cups are lightly packed. | All vegetables are medium size and peeled, unless specified. | All eggs are 55–60 g, unless specified.
If you enjoyed this Prawn rougaille recipe then browse more Mauritian recipes, seafood recipes and our most popular hainanese chicken rice recipe.
Mauritian Restaurants
Displaying 5 of 5 Mauritian Restaurants.
PLEASE NOTE: All submitted comments become the property of SBS. We reserve the right to edit and/or amend submitted comments. HTML tags other than paragraph, line break, bold or italics will be removed from your comment.
Featured Food & Recipes
Hot Tips
More
Condiments
Many Filipino dishes are accompanied by a selection of sawsawan, dipping sauces or condiments. Common condiments include fish sauce or soy sauce mixed with kalamansi juice, or vinegar mixed with crushed garlic or chillies.
Glossary
More
Hominy
Hominy is dried white corn which is used to make a much loved dish called Pozole. Some small restaurants in Mexico serve only this dish.