Silken tofu with oolong tea recipe
Created by
Varuni Kulasekera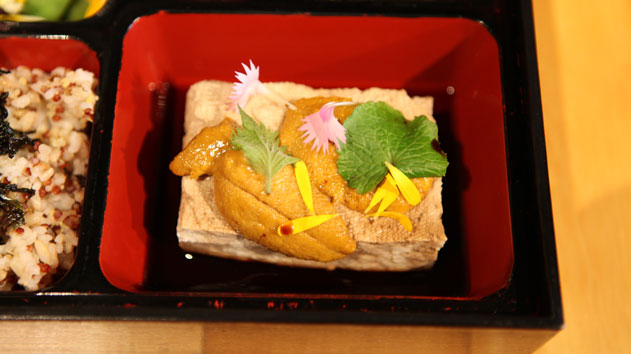 Cuisine:

Japanese

Prep Time: 45 min(s)
Cook Time: 20 min(s)

Serves 2
Inspired by the flavours of different teas, Varuni uses oolong tea to make tofu from scratch. The fragrance of the tea helps to create a balance of flavours created in her tea inspired bento box.

Using local gin and dill with fresh oysters from Tasmania, this is a great recipe using some of Tasmania's best produce.

Drink match Tamar Ridge Kayena Vineyard Riesling 2010, Tamar Valley, Tas
Traditionally, your fancy society ladies and gents might have downed bottles of Champagne with oysters – it's a match as old as time itself (okay, not quite that old…). And being from Tasmania you could certainly happily pair one of the local sparkling pinot noir chardonnay blends with this dish – they're some of the best examples in the land. However, I'm going to jump on the chance to match the dish with some local riesling. The dryness and crisp acidity mirror the best assets of the sparkling, but in addition you have the subtle spice and floral flavours of the riesling to help pick out the beautiful dressing. It's like an extra splash of lemon juice on your oyster and who wouldn't want that?

Ingredients
250g organic soy beans
4 cups brewed oolong tea
1 tbsp liquid nigari (magnesium sulphate) or ½ tbsp nigari flakes
View conversion table
Preparation
Rinse and wash the soy beans. Leave to soak overnight in plain water.

Drain the beans. Blend the beans with 200ml of water until it forms a paste. In a saucepan, add the oolong tea to the paste and bring to the boil (approximately 5 minutes).

Remove the saucepan from the heat and pour the mixture through a colander lined with cheesecloth. Allow the milk to drain, squeezing the excess liquid out. Discard the solids.

In a saucepan, heat the drained soy milk by bringing to a boil. Then simmer for approximately 10 minutes, allowing the soy milk to evaporate, until the mixture reduces to approximately 600ml.

Add liquid nigari to ½ cup of cold water. While the soy milk is hot, pour the nigari mix into the milk in three stages, stirring in between. The milk will start to coagulate immediately. Quickly pour into tofu moulds lined with cheesecloth (any plastic container with a few holes can be used so that excess liquid can drain) and allow to set overnight.

Note: Nigari can be bought from most health food stores.
If you enjoyed this Silken tofu with oolong tea recipe then browse more Japanese recipes, side dish recipes, vegetarian recipes, prepare ingredients in advance recipes, vegetarian recipes and our most popular hainanese chicken rice recipe.
Japanese Restaurants
Displaying 10 of 678 Japanese Restaurants.
PLEASE NOTE: All submitted comments become the property of SBS. We reserve the right to edit and/or amend submitted comments. HTML tags other than paragraph, line break, bold or italics will be removed from your comment.
Featured Food & Recipes
Hot Tips
More
… and keep rust at bay
Like all cast-iron cookware, potjie are prone to rust. When you've finished cooking in your potjie, rinse it with boiling water and little or no detergent, then dry and wipe the inside lightly with olive or vegetable oil.
Glossary
More
Bacalhau
The Portuguese word for salted, dried codfish, a staple in Portuguese cuisine. Bacalhau must be soaked over 24 hours before use. It is said that there is a different dish using bacalhau for every day of the year.