Baked taleggio eggs with preserved lemon and parsley recipe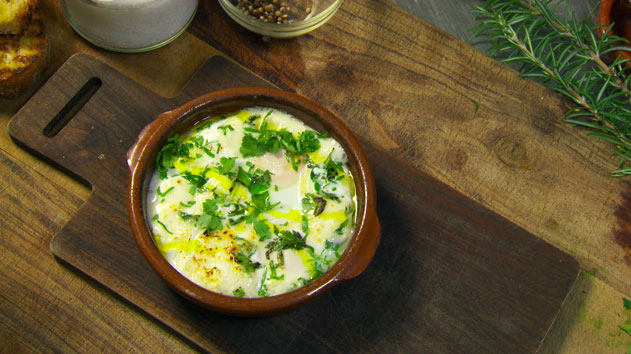 Cuisine:

Modern Australian

Prep Time: 10 min(s)
Cook Time: 15 min(s)

Serves 1
This is inspired by the French dish "oeufs en cocotte", which derives its name from the terracotta dishes in which the eggs are cooked. There are many variations, but Jay's version is influenced by his leanings towards Italian cuisine and his need to have a simple, fast, delicious and consistent dish to serve in his small and busy café. The dish is fantastic for breakfast or brunch.
Ingredients
¼ tsp (5ml) olive oil for greasing of terracotta dish
2 free-range eggs (70g in total)
50g Taleggio cheese, roughly pulled apart and torn into smaller pieces
2g salt preserved lemon, cut into thin julienne slices
1 tbsp Italian flat leaf parsley, coarsely chopped
2 slices of sourdough bread
View conversion table
Preparation
Preheat the oven to 180°C.

Brush a small terracotta dish (14cm round and 2cm deep) with olive oil.

Crack the two eggs into the centre of the dish.

Place the torn pieces of taleggio around the edges of the dish so that the eggs are kept in the centre, otherwise the eggs will overcook if they are on the edges.

Spread the thin julienne slices of preserved lemon on the top of the eggs.

Spread half of the coarsely chopped parsley on top, save the other half for finishing.

If using a steam oven, steam the eggs for 1 minute then bake for 8-9 minutes. If using a conventional oven, add 5 ice-cubes or some water in the bottom of a pan just before you place the terracotta dish into it to bake. Bake for 9 - 12 minutes depending on your oven heat.

After 9-10 minutes, check the eggs – the cheese should have melted and be bubbling, the egg whites should be cooked through and the yolks should still be soft. If you like your egg yolks firmer, then bake for another minute or two.

After removing from the oven, sprinkle the remaining chopped parsley on top and serve with sourdough bread.

If you enjoyed this Baked taleggio eggs with preserved lemon and parsley recipe then browse more Modern Australian recipes, vegetarian recipes, easy recipes, baking recipes and our most popular hainanese chicken rice recipe.
Modern Australian Restaurants
Displaying 10 of 601 Modern Australian Restaurants.
PLEASE NOTE: All submitted comments become the property of SBS. We reserve the right to edit and/or amend submitted comments. HTML tags other than paragraph, line break, bold or italics will be removed from your comment.
Featured Food & Recipes
Hot Tips
More
Serving rice
To serve coconut rice Malaysian style, scoop individual servings into a small soup bowl to mould rice before upending it onto plates.
Glossary
More
Betel Leaf
These glossy, dark green heart shaped leaves have a slightly bitter taste and are mostly used as a wrapper for a filling of cooked meats.