Baked fish recipe (pesce al forno)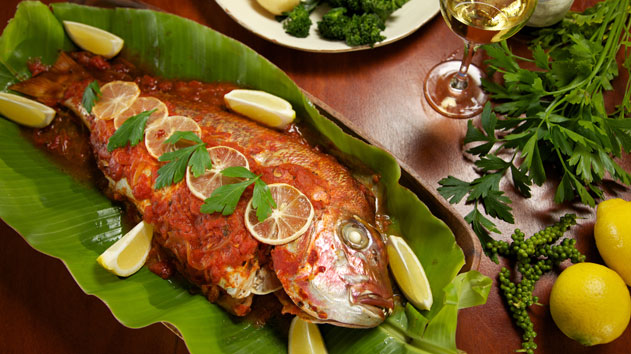 Cuisine:

Italian

Prep Time: 30 min(s)
Cook Time: 35 min(s)

Serves 4
John Picone takes inspiration from his Sicilian parents for this dish. He likes simple, uncomplicated food and this dish reflects the food he grew up with.

Wine match Brash Higgins 'NDV' Nero d'Avola Amphora Project 2011, McLaren Vale, SA
This dish is the perfect excuse for you to check out what Australian wine producers are doing with Italian grapes. John's inspiration is Sicily, so let's look to indigenous Sicilian varieties for a match and, given the tomato sauce, I think a light red one will be best. Probably the most important variety is Nero d'Avola, which has recently shown itself to have real promise in Australia. New from McLaren Vale is this silky, elegant version from Brad Hickey, under his Brash Higgins label. There's a real lightness of touch in the winemaking, which means it won't overpower the fish at all.
-Dan Coward

Ingredients
1 brown onion, peeled, cut in half, finely sliced
2 garlic cloves, very finely sliced
¼ cup olive oil
½ tsp fennel seeds
Pinch of saffron, soaked in 1 tsp boiling water
½ tsp dried tarragon
½ tsp dried marjoram
Salt and pepper
¼ cup Cinzano Extra Dry Vermouth
500-700g very ripe tomatoes, pureed (alternatively use 2 tins good quality crushed tomatoes)
1 whole snapper (2kg), scaled, cleaned, patted dry with paper towels
Lemon, peeled, finely sliced
Parsley, finely chopped
View conversion table
Preparation
Preheat the oven to 180°C.

Over a medium heat, sauté the onion and garlic in olive oil, until golden and very soft. Add the fennel seeds, saffron, tarragon, marjoram, salt and pepper. Stir over a low heat for 2 minutes. Add the Cinzano and reduce to half the original amount. Add the tomatoes and cook until thickened. Take off the heat.

For the fish, make a longitudinal cut on both sides of the fish down to the bone.

Line a baking dish with baking paper. Drizzle some olive oil on the dish and spoon one-third of the sauce on the bottom. Place the fish on top of the sauce. Spoon another one-third of the sauce inside the fish cavity, plus 3-4 lemon slices. Spoon the remainder of the sauce over the fish, coating as much of the fish as possible. Place lemon slices along the centre of fish. Add a little sea salt and pepper to taste. Cover the dish with foil making sure to seal around edges.

Bake in the oven, covered for approximately 30-35 minutes.

Remove the foil and sprinkle with chopped parsley. Serve with steamed potatoes and vegetables of your choice.
If you enjoyed this Baked fish recipe (pesce al forno) then browse more Italian recipes, seafood recipes, easy recipes, baking recipes and our most popular hainanese chicken rice recipe.
Italian Restaurants
Displaying 10 of 2165 Italian Restaurants.
PLEASE NOTE: All submitted comments become the property of SBS. We reserve the right to edit and/or amend submitted comments. HTML tags other than paragraph, line break, bold or italics will be removed from your comment.
Featured Food & Recipes
Hot Tips
More
Seasoning meat for Goulash
After you have diced your meat for the goulash place it in a plastic bag and add flour and salt and pepper. Twist the top of the bag to seal and give it a good shake. This will ensure that all the meat is evenly coated in the seasoned mixture before you brown it.
Glossary
More
Oleic Acid
A fatty acid found in almost every vegetable and animal fat. Rich sources are olive and peanut oils.