Chilli-glazed lamb ham recipe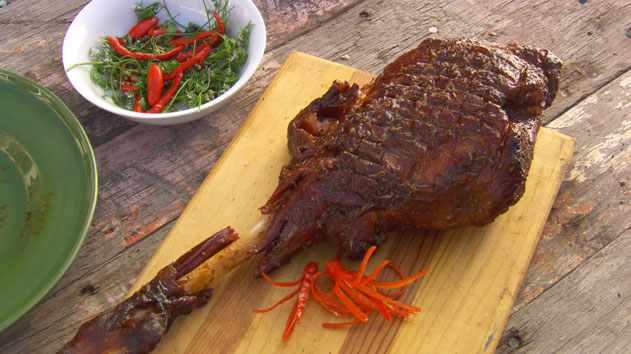 Cuisine:

Modern Australian

Prep Time: 15 min(s)
Cook Time: 1 hr(s) 30 min(s)

Serves 8
Christmas lunch in Australia is often a riotous mix of summer seafood and unseasonal European favourites. The first time I tried lamb ham I was overwhelmed with the idea that this could be the answer to Australia's Christmas confusion. Don't be surprised if, in 25 years, this wonderful product is an icon of the Australian holiday feast.

Wine match Hollick Sparkling Merlot 2009, Coonawarra, SA
There must be something wrong with my parents. I've been on this earth 34 years and they never once mentioned that lamb ham even existed. I have found my new purpose in life and it comes glazed in chilli. The mouth-watering combination of the chilli and spices along with the unmistakeably earthy lamb suggests to me a fruity red like a Coonawarra Cabernet or Merlot at the softer end of the tannin spectrum. Those would be good choices, but, hey, it's a Christmas celebration, so if ever there was a time to enjoy sparkling red wine, this is it. The style is usually full, fruity and with a hint of sweetness to match the spice. Oh, and it goes pretty well with the weather, too.
-Dan Coward

Ingredients
1 whole lamb ham (about 2kg)
Chilli glaze
2 tbsp cumin seeds
250g Ligurian honey
2 tbsp chilli powder
1 tbsp soy sauce
2 tbsp white vinegar
1 tbsp Tabasco sauce
100g soft brown sugar
View conversion table
Preparation
Preheat your barbecue to 180°C.

Trim the skin from the lamb ham, but leave as much fat as possible still attached. Sit the lamb on a rack over a roasting tray and pour boiling water into the tray until it is about 2cm deep but not touching the lamb. Wrap the exposed bone completely with foil and then cover the entire tray with more foil. Roast for 30 minutes.

Toast the cumin seeds in a dry frypan until fragrant and then lightly crush with a mortar and pestle. The seeds do not need to be completely powdered but should be broken. Combine all of the glaze ingredients in a small saucepan and heat slowly over a low heat until the glaze is liquid and combined.

Brush the lamb all over with a thick layer of the glaze and roast for 1 hour, brushing with a little more warm glaze every 15 minutes.

Remove from the oven, cover loosely with foil and rest for at least 30 minutes before serving.
If you enjoyed this Chilli-glazed lamb ham recipe then browse more Modern Australian recipes, meat recipes, entertaining recipes, baking recipes and our most popular hainanese chicken rice recipe.
Modern Australian Restaurants
Displaying 10 of 601 Modern Australian Restaurants.
PLEASE NOTE: All submitted comments become the property of SBS. We reserve the right to edit and/or amend submitted comments. HTML tags other than paragraph, line break, bold or italics will be removed from your comment.
Featured Food & Recipes
Hot Tips
More
Choosing and prepping asparagus
Choose asparagus with tight, well-formed heads and avoid any with thin woody, dry and dirty stems. Snap off the woody end of the asparagus by holding the spear in the middle and bend the bottom until it finds its natural snapping point. Discard the woody ends, or use in a stock.
Glossary
More
Black-Eyed Peas
A legume used frequently in African and South American cooking, small, pale and round with a black spot, hence the name.