Twice-cooked pork belly recipe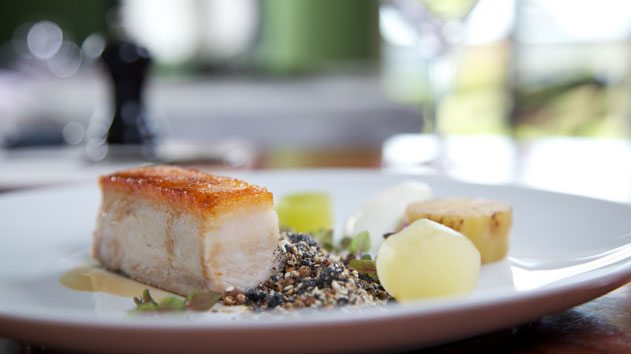 Cuisine:

Modern Australian

Prep Time: 3 hr(s)
Cook Time: 3 hr(s)

Serves 8
Inspired by Thomas Keller's restaurant The French Laundry in California, Shaun Arantz uses the 'sous-vide technique' at his own restaurant, Racine, when making this pork belly recipe.

Drink match Small Acres Norfolk Still 2010 (Medium Dry), Orange, NSW
Shaun's philosophy is to use as many ingredients as possible that are local to his Orange restaurant, so it makes sense to approach the drink match in the same way. Luckily, there's a pretty amazing wine region on his doorstep, but I'm going to be a bit controversial here and choose another of the region's burgeoning drinks categories – cider. Small Acres Cyder is a fantastic artisanal producer of highest quality, traditional ciders made from local apples. The brine and accompaniments to the dish are quite richly spiced, so I've chosen the full flavoured and immensely tasty Norfolk Still Medium Dry Cider. Being without bubbles and fairly complex, it almost behaves like a wine and has fantastic balance. The apple flavour perfectly complements the pork as well.
-Dan Coward

Ingredients
½ side of pork belly, bones removed
olive oil
Brine
2 carrots, peeled, roughly chopped
2 white onions, peeled, roughly chopped
1 leek, cleaned, peeled, roughly chopped
1 whole head garlic, cut horizontally
1 whole knob ginger
1 stick celery, cleaned, roughly chopped
1 stick lemongrass, bruised
1 star anise
1 tsp coriander seed
1 tsp black peppercorn
1 tsp white peppercorn
5L cold water
View conversion table
Preparation
Level of difficulty: confident cook

Chilling time: overnight

Combine the brine ingredients in a large stock pot and bring to a boil. Once boiled, take the brine off the stove and let it cool to room temperature before cooling in the fridge for 3 hours, allowing the flavours to infuse.

Place the brine and pork belly in a vacuum pack bag and seal the bag in a vacuum pack machine. Place the bag in a steam oven at 75°C for 12 hours. Alternatively, place the pork in a deep casserole dish, covered and submerged in the brine, at 180°C for 3 hours.

Remove the pork belly from the bag or casserole dish and place a heavy weight on top of the pork belly to press it down and alleviate excess fat. Leave in the fridge overnight with the weight on top.

Heat some olive oil in a large saucepan over a high heat. Add the pork belly, fat side down and cook until golden. Taste for seasoning.

Suggested accompaniments include: veal jus, compressed honeydew, pickled Japanese eggplant, squid ink dukkah, yoghurt foam, shiso cress or micro greens.
If you enjoyed this Twice-cooked pork belly recipe then browse more Modern Australian recipes, meat recipes, prepare ingredients in advance recipes, slow cooking recipes and our most popular hainanese chicken rice recipe.
Modern Australian Restaurants
Displaying 10 of 601 Modern Australian Restaurants.
PLEASE NOTE: All submitted comments become the property of SBS. We reserve the right to edit and/or amend submitted comments. HTML tags other than paragraph, line break, bold or italics will be removed from your comment.
Featured Food & Recipes
Hot Tips
More
Chillies
To keep the flavour but avoid heat, keep the chilli whole or remove seeds. Break dried chillies in half for more heat in cooking.
Glossary
More
Rennet
An extract from the stomach of cows or sheep, used to curdle milk for cheese making. A vegetarian alternative to rennet is now used in making vegetarian cheese.