Antep-style pistachio baklava recipe
Created by
Somer Sivrioglu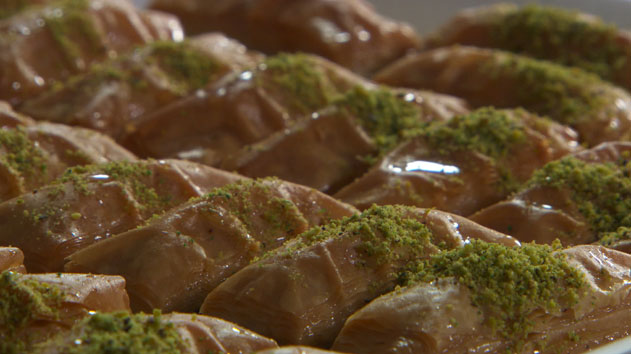 Cuisine:

Turkish

Prep Time: 45 min(s)
Cook Time: 1 hr(s) 30 min(s)

Makes 42 pieces
Normally at the restaurant we make our own filo pastry. It's so thin that you could read a newspaper placed under it. This is a more practical recipe, particularly fun to do with children.

Drinks match Mint tea cocktail
I have to admit being slightly stumped by a baklava drink match, as I've always thought of tea as the perfect accompaniment. So, with that in mind, I decided to get a little creative and find a way to pack a little extra punch into your afternoon tea. Try an iced tea cocktail combining bruised mint leaves, a dash of lime juice, a shot of vodka and some pre-made, sweetened ice tea. You get a bit of sweetness as well as that minty tea flavour so familiar to baklava lovers. If that all sounds like too much work, relax, pop the kettle on and have a cuppa.
-Dan Coward

Ingredients
Sugar syrup
500g caster sugar
¼ lemon, juiced
Baklava
1 x 375g pack of Antoniou filo pastry
500g ghee or clarified butter, melted
350g pistachio kernels, crushed (Turkish or Iranian, unsalted)
View conversion table
Preparation
To make the sugar syrup, place 600ml of water and the sugar into a medium-sized pot and cook over a medium heat. Add the lemon juice.

Take off the heat once it is syrupy and dense, but without caramelising. Cool at room temperature and then pour into a jug. (Do not cool in the fridge or iced water as it will make the syrup too thick.)

To make the baklava, preheat the oven to 180°C.

Cut the filo to the size of a 30cm x 20cm x 4cm deep tray. Divide the filo pieces into two and cover with a damp cloth.

Brush the base and inside of the tray with the ghee using a pastry brush.

Place one filo piece at a time into the tray, brushing each layer. On every three layers, sprinkle a very thin layer of crushed pistachios (to aerate the pastry while cooking).

Once you are halfway, coat the pastry with a thick layer of pistachios. Continue to layer the pastry and brush with the ghee. Once again, on every three layers, sprinkle a very thin layer of crushed pistachios until there are ten layers of filo left. Don't sprinkle any pistachios on the last ten layers.

With a sharp knife, cut seven equal pieces widthwise and six equal pieces lengthwise.

Pour the remaining ghee over the filo, making sure it goes into the cuts of the filo.

Cook in the oven for 30 minutes, turning if needed for even cooking.

The baklava is ready once golden brown. As soon as the baklava comes out of the oven, pour the room temperature sugar syrup on the hot baklava. Rest for 30 minutes to absorb the sugar. Decorate with crushed pistachios.
If you enjoyed this Antep-style pistachio baklava recipe then browse more Turkish recipes, dessert recipes, baking recipes, egg-free recipes and our most popular hainanese chicken rice recipe.
Turkish Restaurants
Displaying 10 of 89 Turkish Restaurants.
PLEASE NOTE: All submitted comments become the property of SBS. We reserve the right to edit and/or amend submitted comments. HTML tags other than paragraph, line break, bold or italics will be removed from your comment.
Featured Food & Recipes
Hot Tips
More
Rescuing burnt chocolate
To melt chocolate break it into small pieces and place in a large heatproof bowl suspended over a small saucepan of just simmering water. Make sure the bottom of the bowl is not touching the water. Stir constantly and remove as soon as all the chocolate is melted.
Glossary
More
Bisque
Shellfish soup thickened by roux as well as by a puree of its main ingredient.