Mussels cooked in lemongrass-scented coconut milk recipe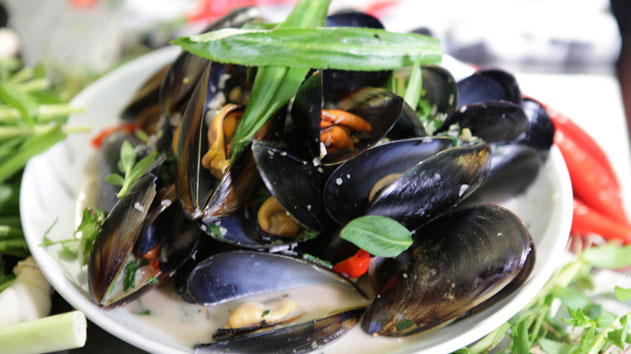 Cuisine:

Modern Australian

Prep Time: 20 min(s)
Cook Time: 10 min(s)

Serves 4-6 as part of a shared meal
At the opening of his new restaurant, Luke takes time out to show Lily one of his new dishes.

Wine match Pewsey Vale Prima Riesling 2011, Eden Valley, SA
With a classic mussels and white wine dish, I would have suggested a dry riesling, but this beautiful Vietnamese version just begs for something with more exotic aromas. That hint of chilli also deserves a bit of attention as well, which is why I've gone for something with some residual sugar, as this will balance any heat that comes through. It's alive with juicy apple and lemon flavours, and some white flower aromas that launch themselves from the glass. In the true tradition of the German off-dry rieslings it's styled upon, the acidity is really noticeable and beautifully cleans the palate on the finish.
-Dan Coward

Ingredients
1kg small mussels
2 tbsp vegetable oil
2 tbsp finely chopped lemongrass, white part only
2 red Asian shallots, chopped
3 garlic cloves, chopped
250ml light coconut milk
125ml hot water
2 tbsp fish sauce
1 tbsp sugar
½ tsp ground black pepper
1 long red chilli, sliced
10 Vietnamese mint leaves, sliced
5 sawtooth coriander leaves, sliced
View conversion table
Preparation
Scrub and debeard the mussels. Discard any open mussels or any open ones that don't close when tapped on the work surface.

Place a large wok over a high heat, add 500ml of water and bring to a rapid boil. Add the mussels, cover with a lid and cook until the mussels slightly open, lifting the lid occasionally to stir the mussels. Remove from the wok and set aside.

Wipe the wok clean with kitchen paper and place over a medium heat. When the wok is hot, add the oil and cook the lemongrass until fragrant, then add the shallots and garlic and stir-fry for 1 minute.

Pour in the coconut milk, hot water and fish sauce, and then add the sugar. Stir and bring to the boil, then return the mussels to the wok and toss for 1 minute. (Discard any mussels that do not open.)

Add the pepper, chilli, Vietnamese mint and sawtooth coriander. Toss for a further minute, and then tip into a serving bowl.
If you enjoyed this Mussels cooked in lemongrass-scented coconut milk recipe then browse more Modern Australian recipes, seafood recipes, easy recipes, quick recipes and our most popular hainanese chicken rice recipe.
Modern Australian Restaurants
Displaying 10 of 601 Modern Australian Restaurants.
PLEASE NOTE: All submitted comments become the property of SBS. We reserve the right to edit and/or amend submitted comments. HTML tags other than paragraph, line break, bold or italics will be removed from your comment.
Featured Food & Recipes
Hot Tips
More
Break in the pot
Most potjie will be seasoned and ready to use after a quick rinse, however some manufacturers recommend "breaking in" the pot by cooking a few vegetables (some use a whole cabbage) in a large quantity of water for several hours.
Glossary
More
Lentil
A brown or yellow flat legume about the size of a pea used for soups, stews, and garnishes.