Spanner crab baked with mung bean vermicelli recipe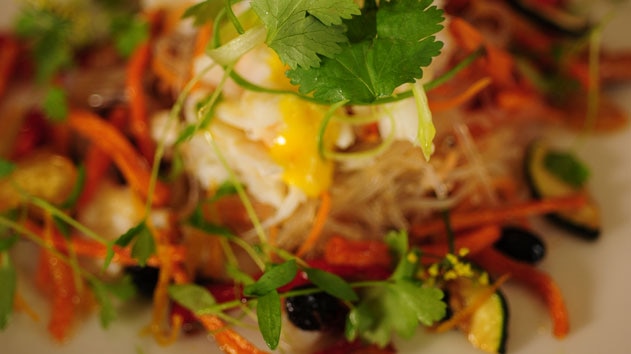 Cuisine:

Modern Australian

Prep Time: 40 min(s)
Cook Time: 30 min(s)

Serves 6
Adam Liaw has fond memories of eating Cheong Liew's dishes as a child. They reunite and Cheong shares his latest signature dish with Adam.

Wine match Ten Minutes by Tractor 10X Pinot Gris 2011, Mornington Peninsula, Vic
This is quite a delicately spiced dish, but also quite an intensely flavoured one thanks to the cooking methods. This should set you looking for a similarly built wine, something with a bit of body and a dash of spice. You'll find that pinot gris can play the supporting part very well, but you do need to find the right one. It's distinctly different in style to the leaner, crisper, more citrus-driven pinot grigio. Same grape, different origins and occasionally confusing when the label description doesn't match your expectations. This Mornington beauty avoids sweet and flabby, and, instead, ploughs through tree and stone fruit, spice, some floral notes and a textured palate with just enough cleansing acidity on the finish.
-Dan Coward

Ingredients
15ml oil
80g pork jowl, finely minced
1 shallot, finely chopped
2 garlic cloves, finely chopped
50g dried Chinese mushrooms, soaked in warm water, finely sliced
120g yam bean, cut into julienne
30g prawns, whole, shell on, sliced in half
125ml crab or fish stock
120g carrots, cut into julienne
1 stalk spring onion, the light parts finely shredded for curls
100g mung bean vermicelli (soaked in cold water)
420g Noosa spanner green crab meat
40ml sake
White pepper
Garnish
50g carrots, cut into julienne
50g red capsicums, sliced into thin batons
50g zucchinis, slice into half rounds
1 red chilli, seeds removed, cut into round slices
1 orange, zested
2 tbsp sugar
2 tbsp water
Oil dressing
60ml olive oil
30g fermented black beans
1 garlic clove, finely chopped
1 shallot, finely chopped
1 pinch Iranian saffron
1 pinch chilli flakes
View conversion table
Preparation
Preheat the oven to 180°C.

In a frying pan, heat the oil and sauté the minced jowl. Cook until the oil starts to release. Strain the oil and set aside for later use.

In the same pan, sauté the shallot, garlic, and mushrooms. Add the yam beans and prawns. Cook until fragrant. Add in water and the crab stock, and bring to a boil. Braise for a few minutes. Add in the carrots, spring onion and mung bean vermicelli.

Place the vermicelli noodles and vegetables in a shallow baking tray. Spoon the crabmeat on the top and evenly spread over the noodles. Sprinkle the pork cooking oil from the pork jowl over the crabmeat. Cover with foil or a lid. Bake in the oven for 20 minutes.

After 20 minutes, remove the dish from the oven and sprinkle the sake over the top. Bake for a further 3-5 minutes.

To make the garnish, preheat the oven to 180°C.

Lightly oil the carrots, capsicums, zucchinis and red chillies. Spread into a roasting tray and cook in the oven for 10 minutes.

In a small pot, place the orange zest, sugar and water and boil for 2 minutes. Strain and add to the roasted vegetables.

To make the oil dressing, combine all the ingredients.

Spread the roasted vegetables on a serving plate, leaving a circle of space in the centre for a generous spoon of the baked spanner crab noodles. Garnish with the spring onion curls on top of the spanner crab. Season with white pepper. Spoon the oil dressing on the outer circle of the roasted vegetables and serve.
If you enjoyed this Spanner crab baked with mung bean vermicelli recipe then browse more Modern Australian recipes, noodle and dumpling recipes, seafood recipes, entertaining recipes, baking recipes and our most popular hainanese chicken rice recipe.
Modern Australian Restaurants
Displaying 10 of 601 Modern Australian Restaurants.
PLEASE NOTE: All submitted comments become the property of SBS. We reserve the right to edit and/or amend submitted comments. HTML tags other than paragraph, line break, bold or italics will be removed from your comment.
Featured Food & Recipes
Hot Tips
More
Deep frying
If you are deep frying and do not have a thermometer, you can test if the oil is ready by dropping a cube of crustless white bread in the oil. If the oil is hot enough the bread should be golden brown in about 60 seconds.
Glossary
More
Guajillo Chillies
Guajillo (dried and pronounced gwah-HEE-yoh) has a very tough leathery skin so may require long soaking.