Mussels with cultured butter recipe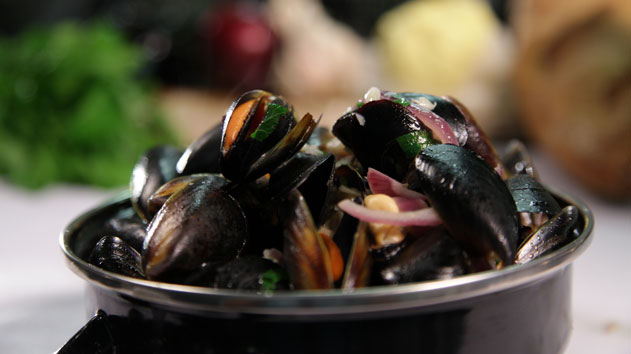 Cuisine:

Modern Australian

Prep Time: 10 min(s)
Cook Time: 10 min(s)

Serves 1 as main course, or 4 as an entrée
Australia has wonderful seafood and simple recipes that allow the flavour and quality of the seafood to be showcased are often the best. Unsalted cultured butter perfectly complements mussels by absorbing some of the saltiness of the mussels and providing creaminess. Live pot-ready mussels should be used such as those from Kinkawooka in South Australia.

Wine match Brokenwood Forest Edge Chardonnay 2011, Orange, NSW
What an absolutely classic dish. Instead of the tangy white wine you sometimes find in the dish, here we have this beautiful cultured butter, which builds such creaminess. This calls for a different kind of wine compared to the white wine sauce… something a little richer, with more body and oomph. You could think about a barrel-fermented Sauvignon Blanc, but I'm tempted to lean towards a Chardonnay and, seeing as we're in NSW for this dish, let's stick with one of the excellent examples from Orange. Chardonnay has the creaminess to match the butter, but also the acid on the finish to keep things clean. This complex example from Brokenwood has just the right combination of body and balance.
-Dan Coward

Ingredients
60g unsalted cultured butter
2 garlic cloves, finely chopped
½ Spanish onion, thinly sliced
1kg live pot-ready black mussels
50g flat-leaf parsley, finely chopped
Pepper, to taste
2 slices fresh bread (such as sourdough)
View conversion table
Preparation
Melt the butter in a large pot.

Sauté the garlic and onion in the butter until soft.

Add the mussels and stir. Close the lid and allow to cook for 2-3 minutes, or until the mussels open.

Remove the lid and stir. Add the parsley and pepper.

Serve the mussels with fresh bread to soak up the sauce.
If you enjoyed this Mussels with cultured butter recipe then browse more Modern Australian recipes, seafood recipes, easy recipes, quick recipes and our most popular hainanese chicken rice recipe.
Modern Australian Restaurants
Displaying 10 of 601 Modern Australian Restaurants.
PLEASE NOTE: All submitted comments become the property of SBS. We reserve the right to edit and/or amend submitted comments. HTML tags other than paragraph, line break, bold or italics will be removed from your comment.
Featured Food & Recipes
Hot Tips
More
Mate
Make it strong. The second cup is always better.
Glossary
More
Sumac
A Middle Eastern spice obtained from a dried, ground reddish-purple berry. It has a strong tangy flavour and can be used as a souring agent.