Sautéed pearl meat recipe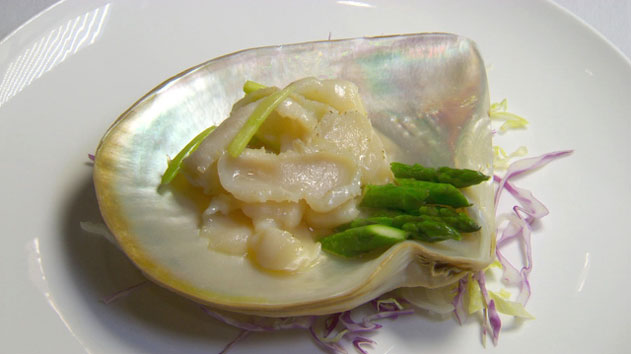 Cuisine:

Modern Australian

Prep Time: 15 min(s)
Cook Time: 10 min(s)

Serves 4 as an entree
This dish is a favourite for diners at Flower Drum. Anthony has taken a native Australian ingredient and used Cantonese cooking styles and flavours to create a dish with a delicate flavour that presents beautifully. Traditionally, Cantonese cook many molluscs such as abalone and conch in this way and Anthony found that this method matches the pearl meat perfectly. The pearl meat is from Broome, WA and is thinly sliced, then stir-fried with spring onion and garlic chives and served with oyster sauce.

Wine match Geoff Weaver Sauvignon Blanc 2012, Adelaide Hills, SA
This is a fabulously delicate and elegant dish, so the last thing you want is an overpowering wine. With the asparagus flavour in there as well, you could look towards Sauvignon Blanc, although that asparagus character is usually more associated with New Zealand examples. That aside, it's still a good choice for its clean minerally acidity, light citrus and apple fruit flavours, and light to medium body. The Adelaide Hills generally produces one of Australia's lighter Savvy styles and so is a good region to look at.
-Dan Coward

Ingredients
200g pearl meat
2 spring onions
6 asparagus spears
2 tbsp chicken stock
½ tsp Shaoxing wine
¼ tsp potato flour
¼ tsp salt
¼ tsp sesame oil
Oyster sauce, to serve
View conversion table
Preparation
Slice the pearl meat thinly; the thinner the better. Bear in mind that the thinner the pearl meat, the quicker it cooks.

Chop off the ends and the dark green parts of the spring onion. Take off the outer layer of the spring onion, leaving the core. Chop into 3cm-long pieces.

Wash and cut the asparagus into 3cm-long pieces.

Make a mixture of the chicken stock, Shaoxing wine, potato flour and the salt together in a small bowl. The mixture will need to be mixed through once more just prior to being put into the wok for the pearl meat.

Bring water to the boil and blanch the asparagus for about 30 seconds. Take out from the water and drain.

Heat a wok with a ½ teaspoon of oil and stir-fry the asparagus for 20 seconds with a pinch of salt. Remove from the wok and set aside for plating.

While the wok is still hot, fill it with enough oil to fry the pearl meat. When the oil reaches about 80°C, flash-fry the pearl meat for less than 10 seconds. Loosen the pieces and remove from the oil and drain.

Take the excess oil out of the wok, and keeping the wok hot, stir-fry the spring onion pieces.

Add the pearl meat back to the wok and toss for a further 10 seconds. Add in the chicken stock mixture. Make sure to continuously stir the ingredients to allow the potato flour to thicken evenly.

Finish by adding the sesame oil in the wok.

To serve, plate up the asparagus and the pearl meat, accompanied by some oyster sauce as a condiment.

Note: If using a pearl meat shell as a plate make sure it is washed of impurities beforehand. Pearl meat can be difficult to source. Substitute with scallops and slice very thinly, horizontally.
If you enjoyed this Sautéed pearl meat recipe then browse more Modern Australian recipes, appetiser recipes, seafood recipes, easy recipes, quick recipes and our most popular hainanese chicken rice recipe.
Modern Australian Restaurants
Displaying 10 of 601 Modern Australian Restaurants.
PLEASE NOTE: All submitted comments become the property of SBS. We reserve the right to edit and/or amend submitted comments. HTML tags other than paragraph, line break, bold or italics will be removed from your comment.
Featured Food & Recipes
Hot Tips
More
Saffron thread
Grind the saffron thread with some salt in a mortar and pestle until it is like a fine powder. It will be distributed through the paella evenly giving a better colour and flavour to the finished dish.
Glossary
More
Borek
A Turkish essential, Borek is a thin flaky pastry filled with cheese & spinach rolled into a long sausage then arranged in a spiral and baked.