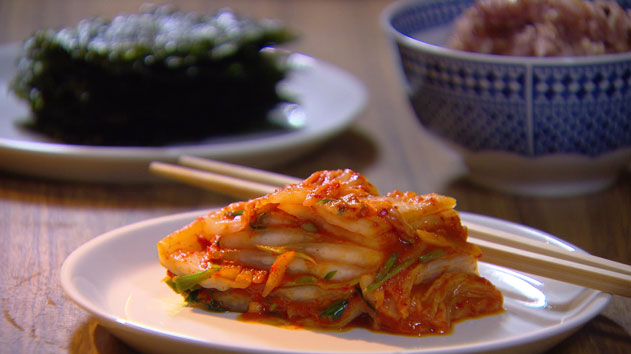 Cuisine:

Korean

Cook Time: 30 min(s)

Serves 10 as an accompaniment
Known as Korea's national dish, kimchi can be used in hundreds of ways, such as in hot pots, stir-fries and braises. David Ralph and wife Jin Sun share her mother's famous family recipe for this versatile, well-known dish.

Wine match Jim Barry Watervale Riesling 2012, Clare Valley, SA
This is a challenge because kimchi is often an accompaniment to a main dish, which would be the focus for the pairing. So, with that in mind, I've imagined that it has been served with a typically spicy and salty main dish, perhaps a kimchichigae, a spicy stew made of kimchi, pork, vegetables, and tofu. With all that spice, I think you want a light, crisp white wine that will cleanse the palate and provide maximum refreshment. The new crop of outstanding 2012 Rieslings have just started to hit the shelves, so this is the best place to look, with beautiful tangy citrus, mineral and floral flavours to the fore.
-Dan Coward

Ingredients
2 medium Chinese cabbages
4.8L warm water
1 cup Korean rock salt
½ Korean radish, cut into julienne
1 tsp sea salt
2 tbsp glutinous rice flour
400ml water
6 tbsp Korean fish sauce
6 tbsp Korean anchovy sauce
2 small onions
2 tbsp fermented shrimp
12 garlic cloves
1 tbsp ginger
2 banana chillies
2 bird's-eye chillies
2 cups Korean chilli flakes or powder
8 tbsp sugar
Salt, to season
½ bunch shallots, sliced
1 bunch garlic chives, cut into matchstick lengths
½ minari (Korean watercress), picked, washed, cut into 5cm pieces
View conversion table
Preparation
Cut the cabbages into quarters, leaving the centre in. Wash well.

Mix the warm water with the rock salt until dissolved, to make a brine. Plunge each cabbage quarter in and transfer to a large bowl.

Sprinkle rock salt between each layer of leaves and then pour the brine over. Soak for 3-6 hours, depending on the thickness of the cabbage.

Once the cabbage has become limp and slightly translucent, wash and squeeze out the liquid.

Sprinkle the radish with the sea salt and leave for 30 minutes. Once the radish is limp, wash and squeeze out the liquid.

In a pot, cook the rice flour and water until it becomes a thick roux-like texture. Keep warm.

In a blender, add the fish sauce, anchovy sauce, onions, fermented shrimp, garlic, ginger, fresh chillies, chilli flakes or powder, sugar and the flour mix. Season to taste and blend until a smooth paste forms.

In bowl, mix the paste with the radish, shallots and chives. Add the minari. With this mix, rub well in between the cabbage leaves.

Place the cabbage into an airtight container, and ferment at room temperature for 6 hours in the summer and 12 hours in the winter.

Before adding to the fridge, make sure the cabbage is covered in liquid to prevent bad bacteria growing. This will keep for 6-12 months.
If you enjoyed this Kimchi recipe then browse more Korean recipes, side dish recipes, prepare ingredients in advance recipes and our most popular hainanese chicken rice recipe.
Korean Restaurants
Displaying 10 of 89 Korean Restaurants.
PLEASE NOTE: All submitted comments become the property of SBS. We reserve the right to edit and/or amend submitted comments. HTML tags other than paragraph, line break, bold or italics will be removed from your comment.
Featured Food & Recipes
Hot Tips
More
Vegeta for your schnitzels
Add extra flavour to your schnitzel mix by adding a teaspoon of Vegeta (a Croatian vegetable stock powder) to the egg mix. This unique flavour enhancer is used in much Croatian cooking.
Glossary
More
Chestnuts
An autumn crop that can be eaten raw, roasted or boiled after removing the tough outer skin. Chestnuts grow in cooler climates and come in a round spiky case.