Duck's blood salad recipe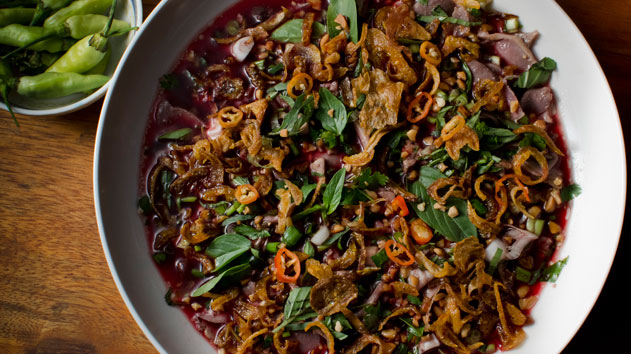 Ingredients
1 tbsp vegetable oil
1 red Asian shallot, chopped
100g duck liver, cleaned, thinly sliced
60ml duck blood
1 spring onion (scallion), finely sliced
1 handful roughly chopped coriander (cilantro)
10 mint leaves
10 Vietnamese mint leaves
1 tbsp fried red Asian shallots (see note, below)
1 tbsp roasted unsalted crushed peanuts
1 lime, cut in half
Accompaniments
2 bird's eye chillies, sliced
2 snake beans, cut into 4 cm (3ó inch) lengths
1 handful Thai basil leaves
View conversion table
Preparation
Add the vegetable oil to a hot frying pan and sauté the shallot until fragrant. Add the duck liver and a pinch of sea salt and stir-fry for 2 minutes. Remove from the heat and allow to cool.

In a shallow bowl, mix together the duck blood and 125ml water. Tip the liver mixture into a mixing bowl. Add the spring onion, coriander, mint and Vietnamese mint and gently toss. Evenly scatter the mixture over the bowl of duck blood, then garnish with the fried shallots and peanuts. Allow the duck blood to set for 15 minutes. Meanwhile, arrange the accompaniments on a separate plate. Squeeze the lime juice over the salad. Serve with the accompaniments and Lao beer.

Note: Fried Asian shallots are widely available at Asian grocers. To make your own, finely slice 200g red Asian shallots and wash under cold water. Dry the shallot with a cloth, then set aside on paper towels until completely dry. Heat 1 litre vegetable oil in a wok to 180°C (350°F), or until a cube of bread dropped into the oil turns brown in 15 seconds. Fry the shallots in small batches until they turn golden brown, then remove with a slotted spoon to a paper towel. They are best eaten freshly fried, but will keep for up to 2 days in an airtight container. The oil they were cooked in can also be reused.

If you enjoyed this Duck's blood salad recipe then browse more Lao recipes, salad recipes, egg-free recipes and our most popular hainanese chicken rice recipe.
Lao Restaurants
Displaying 8 of 8 Lao Restaurants.
PLEASE NOTE: All submitted comments become the property of SBS. We reserve the right to edit and/or amend submitted comments. HTML tags other than paragraph, line break, bold or italics will be removed from your comment.
Featured Food & Recipes
Hot Tips
More
Mate
Make it strong. The second cup is always better.
Glossary
More
Rougaille
A Mauritian "red sauce" used to braise meat, poultry and fish.