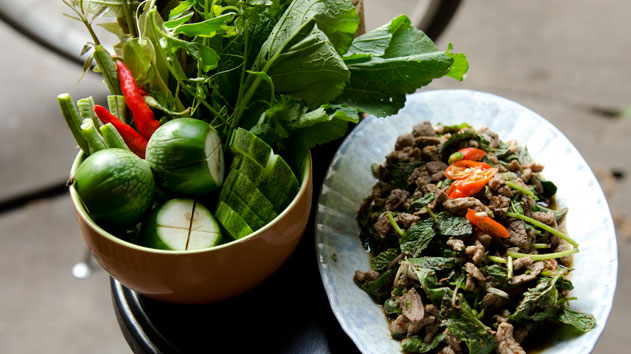 Ingredients
250ml pork stock (see note, below)
200g lean pork tenderloin, diced
100g pork liver, diced
2 handfuls mint leaves
1 handful sliced coriander (cilantro)
4 spring onions (scallions), finely sliced
2 red chillies, sliced, plus extra to garnish
1 tbsp toasted rice powder
2 tbsp padek (Laotian fermented fish sauce) or mam nem (Vietnamese fermented anchovy sauce)
Juice of 1 lime
Accompaniments
1 Lebanese (short) cucumber, sliced
2 apple eggplants, quartered
4 bitter melon stems, with leaves
6 Chinese mustard green leaves
6 snake beans, cut into 4cm lengths
Sticky rice, to serve
View conversion table
Preparation
Pour the stock into a hot wok. When it begins to boil, add the pork meat and liver and cook, stirring, for 2 minutes, or until the meat is cooked.

Transfer the mixture to a mixing bowl and allow to cool for 2 minutes. Add the mint, coriander, spring onion, chilli, rice powder, padek or mam nem and lime juice. Mix together well, then transfer to a serving platter. Garnish with some extra chilli slices.

Serve with the raw vegetables and sticky rice.

Note: To make pork stock, wash 500g pork bones under cold water, then place in a large pot. Peel a 2cm piece of fresh ginger and 4 garlic cloves, then cut each in half and add to the pot. Bash 1 lemongrass stem and 2 spring onions (scallions) with the back of a cleaver or mallet, then add them to the pot. Pour in 2 litres water and bring to the boil. Skim off the impurities from the stock, then reduce the heat and simmer for 2 hours, skimming constantly. Pour the stock through a net strainer into another saucepan and allow to cool. Once cooled, portion into smaller amounts and refrigerate or freeze until required. The stock will last in the fridge for 3 days, or in the freezer for 3 months.

If you enjoyed this Pork laap recipe then browse more Lao recipes, meat recipes, prepare ingredients in advance recipes and our most popular hainanese chicken rice recipe.
Lao Restaurants
Displaying 8 of 8 Lao Restaurants.
PLEASE NOTE: All submitted comments become the property of SBS. We reserve the right to edit and/or amend submitted comments. HTML tags other than paragraph, line break, bold or italics will be removed from your comment.
Featured Food & Recipes
Hot Tips
More
Sticking to the steamer
To avoid food sticking to the bamboo steamer either place a cabbage leaf (or similar) in the bamboo steamer (placing the dumplings on top). Alternatively cut a round of baking paper and cut holes into it (as you would make a paper snowflake).
Glossary
More
Pastizzi
Dozens of layers of flaky pastry filled with a variety of fillings, the most traditional being ricotta and mushy peas.