Luang Prabang salad recipe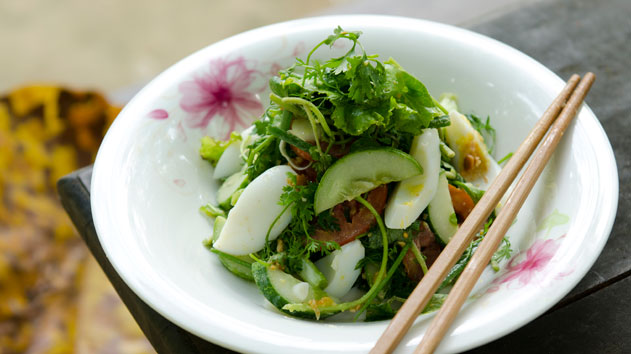 Ingredients
4 hard-boiled eggs
1 bunch watercress, leaves picked
10 iceberg lettuce leaves, torn
1 handful coriander (cilantro) leaves, torn
1 handful celery leaves or mint leaves
1 Lebanese (short) cucumber, sliced
8 cherry tomatoes, quartered
2 tsp fried garlic
2 tsp roasted crushed peanuts
Dressing
2 tbsp caster (super fine) sugar
1 tbsp fish sauce
100ml (3 ½ fl oz) garlic oil
2 limes, juiced
View conversion table
Preparation
Peel the hard-boiled eggs, then cut them into quarters. Separate the egg whites and yolks. Place the egg whites in a salad bowl and set aside.

To make the dressing, mash the egg yolks in a mixing bowl. Add the remaining dressing ingredients, along with a pinch of sea salt. Mix together well. Add the remaining salad ingredients to the egg whites and toss together. Drizzle the dressing over and serve immediately.


If you enjoyed this Luang Prabang salad recipe then browse more Lao recipes, salad recipes, vegetarian recipes, healthy recipes and our most popular hainanese chicken rice recipe.
Lao Restaurants
Displaying 8 of 8 Lao Restaurants.
PLEASE NOTE: All submitted comments become the property of SBS. We reserve the right to edit and/or amend submitted comments. HTML tags other than paragraph, line break, bold or italics will be removed from your comment.
Featured Food & Recipes
Hot Tips
More
Cooking feijoada
Feijoada is the national dish of Brazil. When the feijoada is nearly ready be careful not to use a fork or spoon (or in fact any utensils) in the dish, this is said to spoil the flavour and turn the dish sour. If you do need to add water while it is cooking, make sure it is boiling.
Glossary
More
Chervil
Aromatic herb of the carrot family. It can be used in cheese dishes, egg dishes, soups, and salads.