Sweet coconut cakes recipe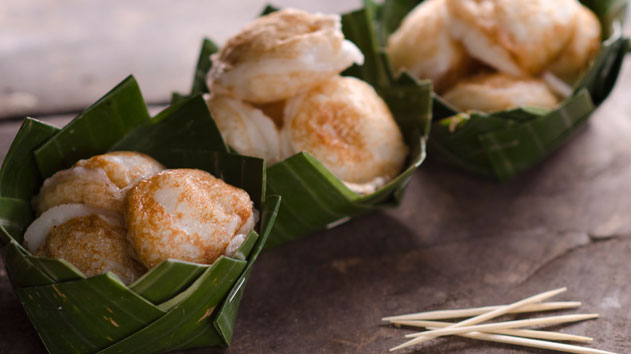 Luke Nguyen gets in the festive spirit, helping out a local street food seller with her coconut cakes.
Ingredients
500ml coconut milk
375g rice flour
125g caster sugar
Vegetable oil, for brushing
View conversion table
Preparation
Place the coconut milk, rice flour and sugar in a mixing bowl. Add a pinch of sea salt and 500ml water, and whisk until completely smooth.

Heat a khao nom kok pan or a Dutch pancake pan (poffertjes pan) to medium. Brush each mould or hole with vegetable oil. Before proceeding, make sure the pan is hot, or the cakes will be difficult to remove. Pour the batter into each mould, close the lid and cook for 4-5 minutes, or until the cakes are browned and crisp, but moist in the centre. Using an oiled stainless steel Chinese soup spoon or teaspoon, remove the cakes from the pan. Repeat with the remaining batter.

Serve hot.

If you enjoyed this Sweet coconut cakes recipe then browse more Lao recipes, dessert recipes, child-friendly recipes, quick recipes and our most popular hainanese chicken rice recipe.
Lao Restaurants
Displaying 8 of 8 Lao Restaurants.
PLEASE NOTE: All submitted comments become the property of SBS. We reserve the right to edit and/or amend submitted comments. HTML tags other than paragraph, line break, bold or italics will be removed from your comment.
Featured Food & Recipes
Hot Tips
More
Woks
One of the essential cooking implements of Indonesia is the wok. You must remember to have it as hot as Indonesians do when they cook so you can achieve the wonderful flavour and aroma that comes from intense heat, often referred to as "the breath of the wok".
Glossary
More
Sahlab
An extract from the tubers of orchids. Used as a thickening agent; cornstarch may be used as a substitute.