Khmer beef skewers recipe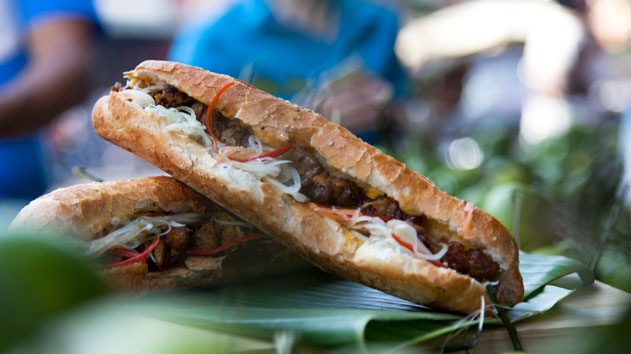 Ingredients
2 tbsp fish sauce
1 tbsp liquid palm sugar or shaved palm sugar (jaggery)
2 tbsp annatto oil
4 tbsp kreoung paste
500g beef brisket, finely sliced
4 Vietnamese baguettes
Pickled vegetables
70ml fish sauce
70ml white vinegar
125g sugar
500g green papaya, peeled, shredded
½ carrot, peeled, shredded
2 long red chillies, finely sliced
View conversion table
Preparation
Make the pickled vegetables a day ahead. Combine the fish sauce, vinegar, sugar and 250ml of water in a saucepan and bring to the boil. Remove from the heat and allow to cool to room temperature.

Transfer the mixture to an airtight container and add the papaya, carrot and chillies. Mix well, seal and leave to pickle overnight, or for 24 hours.

The beef can also be marinated well ahead. Combine the fish sauce, palm sugar, annatto oil and kreoung paste in a mixing bowl with a pinch of sea salt. Stir until the salt has dissolved.

Add the beef and mix until well coated. Cover and leave to marinate in the refrigerator for up to 24 hours, but at least 2 hours.

When you're nearly ready to cook, soak eight bamboo skewers in cold water for 30 minutes.

Heat a barbecue or chargrill pan to medium. Thread the beef onto the skewers and chargrill for 2–3 minutes on each side, or until cooked to your liking.

Slice the baguettes halfway through, creating a pocket. Fill each one with some pickled vegetables and two beef skewers. Pull the skewers out of the rolls and serve.
If you enjoyed this Khmer beef skewers recipe then browse more Cambodian recipes, barbecue recipes, meat recipes, prepare ingredients in advance recipes and our most popular hainanese chicken rice recipe.
Cambodian Restaurants
Displaying 1 of 1 Cambodian Restaurants.
| | | | |
| --- | --- | --- | --- |
| | Restaurant | Book Online | Suburb |
| 1. | Phnom Penh | | Belconnen |
PLEASE NOTE: All submitted comments become the property of SBS. We reserve the right to edit and/or amend submitted comments. HTML tags other than paragraph, line break, bold or italics will be removed from your comment.
Featured Food & Recipes
Hot Tips
More
Couscous
Always fluff couscous with a fork, rather than a spoon, as this will keep the grains light and fluffy rather than stodgy.
Glossary
More
Thick Caramel Sauce
Thick Caramel Sauce is even more viscous than dark soy, this is used to add a depth of colour and flavour to many dishes. Surprisingly, despite its name, it is not sweet.