Wok-tossed squid with kampot pepper recipe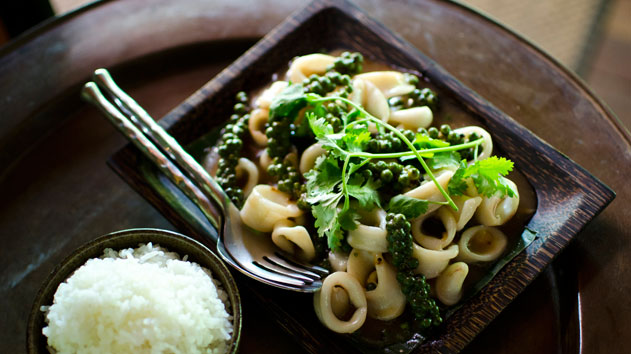 Ingredients
2 tbsp vegetable oil
2 garlic cloves, chopped
1 tsp Cambodian chilli paste
30g kampot green peppercorns or fresh green peppercorns
200g baby squid, cleaned, skinned, cut into 4cm-thick pieces, including the tentacles
½ onion, cut into wedges
¼ green capsicum, finely sliced
¼ red capsicum, finely sliced
1 long red chilli, sliced, plus extra sliced chilli to garnish
2 tbsp oyster sauce
2 tbsp fish sauce
2 tsp liquid palm sugar or shaved palm sugar (jaggery)
1 tbsp crushed roasted peanuts
60ml coconut cream
View conversion table
Preparation
Add the vegetable oil, garlic, chilli paste and peppercorns to a hot wok. Stir-fry over a medium–high heat for 30 seconds, or until fragrant.

Add the squid, onion, capsicums and chilli and stir-fry for a further 1–2 minutes.

Add the oyster sauce, fish sauce, palm sugar, peanuts, coconut cream and a pinch of sea salt and stir-fry for a further 1½ minutes, or until heated through.

Garnish with extra chilli slices and serve.

Note: To make Cambodian chilli paste, soak 200g of seeded, large dried chillies in 500ml of warm water for 10 minutes. Drain, and then squeeze out the excess water. Pound the chillies to a paste in a mortar. Add to a hot wok with 1 tablespoon of vegetable oil and fry over a medium heat for 3 minutes, or until fragrant. Allow to cool, then refrigerate in an airtight container for up to 2 weeks.
If you enjoyed this Wok-tossed squid with kampot pepper recipe then browse more Cambodian recipes, stir-fry recipes, seafood recipes, easy recipes, quick recipes and our most popular hainanese chicken rice recipe.
Cambodian Restaurants
Displaying 1 of 1 Cambodian Restaurants.
| | | | |
| --- | --- | --- | --- |
| | Restaurant | Book Online | Suburb |
| 1. | Phnom Penh | | Belconnen |
PLEASE NOTE: All submitted comments become the property of SBS. We reserve the right to edit and/or amend submitted comments. HTML tags other than paragraph, line break, bold or italics will be removed from your comment.
Featured Food & Recipes
Hot Tips
More
Cooking feijoada
Feijoada is the national dish of Brazil. When the feijoada is nearly ready be careful not to use a fork or spoon (or in fact any utensils) in the dish, this is said to spoil the flavour and turn the dish sour. If you do need to add water while it is cooking, make sure it is boiling.
Glossary
More
Leek
An onion-like plant with a small bulb and thick stalk, used as an aromatic seasoning or vegetable.