Stuffed kampot squid recipe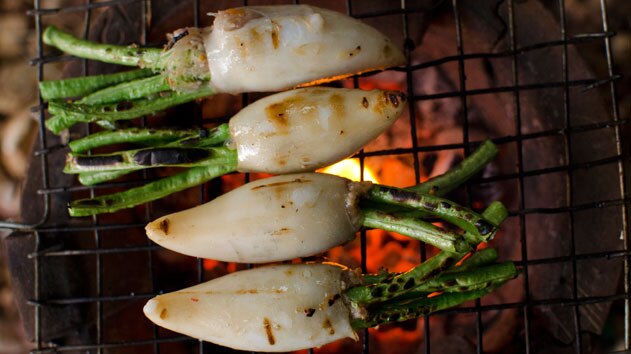 Cuisine:

Cambodian

Serves 4
Ingredients
4 small squid, about 10–15cm long, cleaned, reserving the tentacles
50g minced (ground) pork shoulder
½ carrot, diced
1 tsp oyster sauce, plus 1 tbsp extra
1 tsp sea salt
½ tsp fish sauce
½ tsp liquid palm sugar or shaved palm sugar (jaggery)
1 spring onion, finely sliced
20g glass noodles
1 tbsp vegetable oil
2 garlic cloves, finely diced
2 red Asian shallots, diced
4 snake beans, cut into 10cm lengths
60ml sweet fish sauce dressing
2 tbsp fried red Asian shallots
Red flame flowers, to garnish (optional)
View conversion table
Preparation
Dice the squid tentacles on a chopping board. Add the pork and carrot and finely mince together using a cleaver or two sharp knives.

Transfer to a mixing bowl, and then add the 1 teaspoon of oyster sauce, the salt, fish sauce, palm sugar and spring onion. Mix well and set aside.

Coat the squid tubes with the extra 1 tablespoon of oyster sauce and leave to marinate for 10 minutes.

Meanwhile, soak the noodles in a bowl of water for 10 minutes, then drain and cut into 3 cm lengths. Set aside.

Add the vegetable oil, garlic and shallots to a hot wok or frying pan. Stir-fry over high heat for 30 seconds, or until fragrant.

Add the pork mixture and stir-fry for 2–3 minutes, or until cooked, then add the noodles and stir-fry for a further minute. Remove from the pan and allow to cool.

Stuff each squid tube with the pork mixture, and then close the end of each tube by stuffing it with four snake bean pieces, leaving half the snake beans sticking out of the ends, resembling a squid's tail.

Heat a chargrill pan or barbecue plate to medium. Chargrill the squid for 8 minutes, or until the stuffing is cooked through, turning the squid often.

Slice the squid in half and drizzle with the sweet fish sauce dressing.

Serve garnished with a sprinkle of fried shallots, and red flame flowers, if desired.
If you enjoyed this Stuffed kampot squid recipe then browse more Cambodian recipes, meat recipes, seafood recipes, entertaining recipes and our most popular hainanese chicken rice recipe.
Cambodian Restaurants
Displaying 1 of 1 Cambodian Restaurants.
| | | | |
| --- | --- | --- | --- |
| | Restaurant | Book Online | Suburb |
| 1. | Phnom Penh | | Belconnen |
PLEASE NOTE: All submitted comments become the property of SBS. We reserve the right to edit and/or amend submitted comments. HTML tags other than paragraph, line break, bold or italics will be removed from your comment.
Featured Food & Recipes
Hot Tips
More
Lebanese dip
For a quick Lebanese dip mix tahini with natural yoghurt, crushed garlic, salt and lemon juice. Mix together until thickened and serve with flat bread. (courtesy of Greg Malouf).
Glossary
More
Al Dente
An Italian phrase used to describe the texture of pasta, rice and vegetables as tender or soft on the outside but still firm to the bite.