Warm mango and prawn salad recipe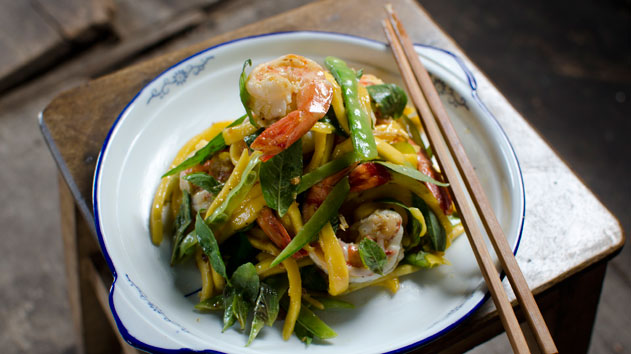 Ingredients
125g snow peas (mangetout)
2 x 300g semi-ripe (but not green) mangoes, peeled, julienned
1 handful mixed mint, Vietnamese mint, basil and perilla leaves, sliced
2 tbsp vegetable oil
3 red Asian shallots, thinly sliced
3cm-piece fresh ginger, peeled, julienned
450g large raw prawns, peeled, deveined, leaving the tails intact
Juice of 2 limes
Dressing
2 tsp Dijon mustard
2 tsp rice wine vinegar
1 tbsp vegetable oil
View conversion table
Preparation
Bring a saucepan of water to the boil. Add the snow peas and blanch for 1 minute. Drain, briefly refresh in cold water, and then drain again. Slice the snow peas lengthways and place in a mixing bowl.

Add the mango and most of the mint, reserving some mint as a garnish. Set aside.

Whisk the dressing ingredients together in a bowl. Season to taste with sea salt and freshly ground black pepper and set aside.

Heat a wok over a medium heat. Add the vegetable oil and sauté the shallots and ginger for 3 minutes, or until caramelised.

Add the prawns and stir-fry for 2 minutes, or until just cooked. Stir in the lime juice to deglaze the pan, and then season with sea salt and freshly ground black pepper.

Add the prawn mixture to the mixing bowl. Pour the dressing over and toss until well combined.

Transfer to a serving platter, garnish with the remaining mint and serve.
If you enjoyed this Warm mango and prawn salad recipe then browse more Vietnamese recipes, salad recipes, seafood recipes, easy recipes, quick recipes and our most popular hainanese chicken rice recipe.
Vietnamese Restaurants
Displaying 10 of 276 Vietnamese Restaurants.
PLEASE NOTE: All submitted comments become the property of SBS. We reserve the right to edit and/or amend submitted comments. HTML tags other than paragraph, line break, bold or italics will be removed from your comment.
Featured Food & Recipes
Hot Tips
More
Drying mushrooms
Use a brush to clean the mushrooms, cut them into thick slices and spread on a baking tray to bake at a low temperature (35–50°C) for about an hour. Allow the mushrooms to cool at room temperature, place in an airtight container, and store in a cool, dark place.
Glossary
More
Casserole Dishes
Used extensively in French cooking, they should be heavy based with a lid that is also ovenproof.