Heart of palm salad recipe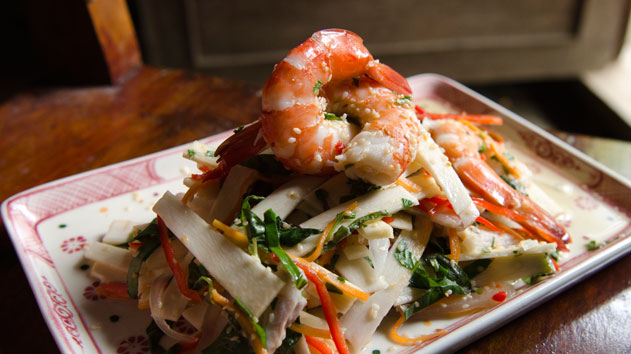 Ingredients
250g heart of coconut palm
5 cooked medium-sized tiger prawns, peeled, deveined
50g cooked pork neck, finely sliced
1 small onion, sliced
½ carrot, shredded
1 handful mixed mint, Vietnamese mint, basil and perilla leaves
60ml nuoc cham
1 tsp sesame seeds, toasted
View conversion table
Preparation
Thinly slice the coconut palm heart lengthways and place in a mixing bowl.

Add all the remaining ingredients, except the sesame seeds. Mix well, and then transfer to a serving bowl.

Sprinkle with the sesame seeds and serve immediately.

Note: Nuoc cham is a popular Vietnamese dipping sauce. To make your own, combine 1½ tablespoons of fish sauce, 1½ tablespoons of white vinegar, 1 tablespoon of sugar and 60ml of water in a saucepan over a medium heat. Stir well and cook until just before boiling point is reached, then allow to cool. Stir in 1 finely chopped garlic clove, ½ finely chopped bird's-eye chilli and 1 tablespoon of lime juice and serve.
If you enjoyed this Heart of palm salad recipe then browse more Vietnamese recipes, salad recipes, meat recipes, seafood recipes, easy recipes, quick recipes and our most popular hainanese chicken rice recipe.
Vietnamese Restaurants
Displaying 10 of 276 Vietnamese Restaurants.
PLEASE NOTE: All submitted comments become the property of SBS. We reserve the right to edit and/or amend submitted comments. HTML tags other than paragraph, line break, bold or italics will be removed from your comment.
Featured Food & Recipes
Hot Tips
More
Chillies
To keep the flavour but avoid heat, keep the chilli whole or remove seeds. Break dried chillies in half for more heat in cooking.
Glossary
More
Mirepoix
A soup or casserole base of chopped onion, celery and carrots. It can also contain ham or bacon.