Chargrilled coconut mouse or quail recipe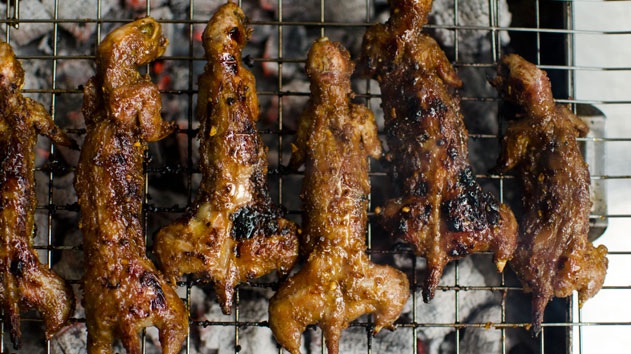 Ingredients
6 coconut mice, skinned, tails and feet removed, or 4 quails, cleaned, butterflied, but not skinned
1 tbsp honey
1 tbsp lime juice
1 tbsp sesame oil
1 handful watercress sprigs, to garnish
1 handful mixed mint, Vietnamese mint, basil and perilla leaves, to serve
Marinade
4 cubes red preserved bean curd
1 tbsp sesame oil
3 tsp five-spice powder
1 tsp red curry powder
1 lemongrass stem, white part only, finely chopped
3 red Asian shallots, diced
1 tbsp diced garlic
2 tsp ground white pepper
1 tsp sea salt
1 tbsp caster (superfine) sugar
2 tbsp light soy sauce
2 tbsp vegetable oil
Lime and pepper dipping sauce
1 tsp sea salt
2 tsp ground white pepper
2 tbsp lime juice
View conversion table
Preparation
Combine all the marinade ingredients in a mixing bowl and mix until well combined, mashing the bean curd as you go.

Add the mice or quails, coating them well with the marinade. Allow the flavours to infuse for at least 30 minutes, or overnight for a better result.

Near serving time, mix together the honey, lime juice and sesame oil and set aside.

Mix the lime and pepper dipping sauce ingredients together in a small bowl and set aside.

Heat a barbecue chargrill or chargrill pan to medium. Grill the mice or quails for 3 minutes on each side, basting each side with the honey mixture. If using quails, chop them into quarters.

Arrange the mice or quails on a platter and garnish with watercress. Serve hot, with the dipping sauce and the fresh herbs.
If you enjoyed this Chargrilled coconut mouse or quail recipe then browse more Vietnamese recipes, meat recipes, prepare ingredients in advance recipes and our most popular hainanese chicken rice recipe.
Vietnamese Restaurants
Displaying 10 of 276 Vietnamese Restaurants.
PLEASE NOTE: All submitted comments become the property of SBS. We reserve the right to edit and/or amend submitted comments. HTML tags other than paragraph, line break, bold or italics will be removed from your comment.
Featured Food & Recipes
Hot Tips
More
Sealing meat
Sealing meat does not actually help to keep the juices inside the meat, it does however add a great charred flavour and colour to the meat. Sear cuts of meat in a hot frying pan or roasting dish over medium to high heat.
Glossary
More
Coulis
Smooth, thick fruit or vegetable sauce (apricot, raspberry, red pepper). It can be used to enhance the flavour of a sauce or may itself be used as a sauce.