Sticky rice powder recipe (koa kore)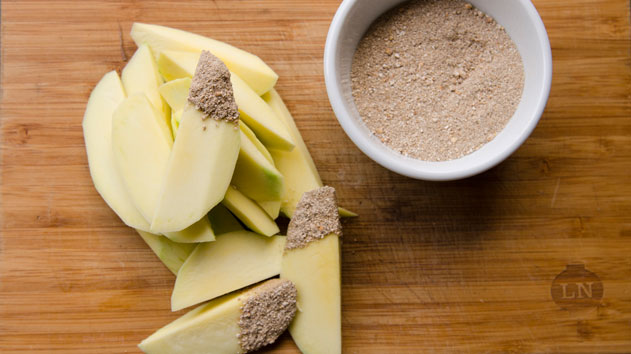 Ingredients
½ cup uncooked sticky rice grains
View conversion table
Preparation
Bring an old pan or wok to a medium heat. Dry roast the sticky rice for 8-10 minutes until browned or if you want it smokier, allow it to reach a light grey colour.

Allow to cool before transferring to a mortar and pound to a fine powder. This can also be done in a spice or coffee grinder.

To make your sticky rice powder more aromatic, you can also dry roast it with lemongrass, chilli and kaffir lime leaves.

Toasted sticky rice powder is predominately used to make laap. Laotians also like to dip unripe fruit such as pomelo, green mango, tamarind and guava into the powder.
If you enjoyed this Sticky rice powder recipe (koa kore) then browse more Lao recipes, sauce and dressing recipes, easy recipes, quick recipes and our most popular hainanese chicken rice recipe.
Lao Restaurants
Displaying 8 of 8 Lao Restaurants.
PLEASE NOTE: All submitted comments become the property of SBS. We reserve the right to edit and/or amend submitted comments. HTML tags other than paragraph, line break, bold or italics will be removed from your comment.
Featured Food & Recipes
Hot Tips
More
Daily grind
It's important to check your mortar and pestle regularly for small cracks since they can trap food and breed germs. All you can do in this case is discard them. After use, give the mortar and pestle a good rinse in warm water (and a little detergent if you've been using particularly pungent ingredients). Pounding a little uncooked rice after rinsing and drying the mortar and pestle helps remove residual odours.
Glossary
More
Parsnips
A white-cream-coloured root vegetable with an agreeable peppery taste. A winter vegetable.