Chargrilled eggplant with pork recipe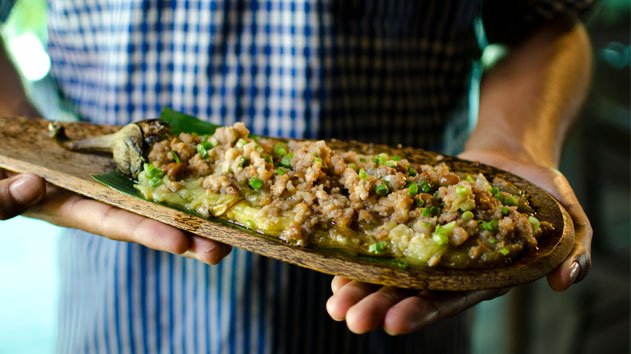 Ingredients
1 long Japanese eggplant
100g lean pork, minced
1 garlic clove
1 red shallot
2 tbsp fermented soy beans
½ tbsp palm sugar
2 tbsp oyster sauce
1 spring onion, sliced, for garnish
View conversion table
Preparation
Chargrill the eggplant over charcoal or a gas flame for 10-15 minutes, or until blackened. On a chopping board, mince the pork together with the garlic and shallot with a heavy cleaver.

In a mixing bowl, combine the minced pork, fermented soy beans, palm sugar and oyster sauce, and mix well.

In a hot wok, add oil and garlic and sauté until fragrant. Add the pork mince mixture and stir-fry over a medium heat for 3 minutes or until cooked.

Submerge the eggplant in a bowl of cold water and peel the blackened skin. Transfer to a serving plate.

Slice the eggplant down the middle and flatten the eggplant out with your knife.

Spoon the cooked pork onto the eggplant and garnish with sliced spring onion and serve.
If you enjoyed this Chargrilled eggplant with pork recipe then browse more Cambodian recipes, meat recipes, easy recipes, quick recipes and our most popular hainanese chicken rice recipe.
Cambodian Restaurants
Displaying 1 of 1 Cambodian Restaurants.
| | | | |
| --- | --- | --- | --- |
| | Restaurant | Book Online | Suburb |
| 1. | Phnom Penh | | Belconnen |
PLEASE NOTE: All submitted comments become the property of SBS. We reserve the right to edit and/or amend submitted comments. HTML tags other than paragraph, line break, bold or italics will be removed from your comment.
Featured Food & Recipes
Hot Tips
More
Fatty casseroles
If you find that your goulash is too fatty either let it rest on the stove for a few minutes and then skim off the fat. If you have a little extra time place the goulash in the fridge and allow the fat to solidify on top of the dish. Remove fat before reheating.
Glossary
More
Nicoise
A French phrase that means "as prepared in Nice," This cooking style is identified with hot and cold dishes that include the ingredients of tomatoes, black olives, garlic and anchovies.