Slow-cooked oven-baked lamb recipe (kleftiko)
Created by
Nick Kastrappi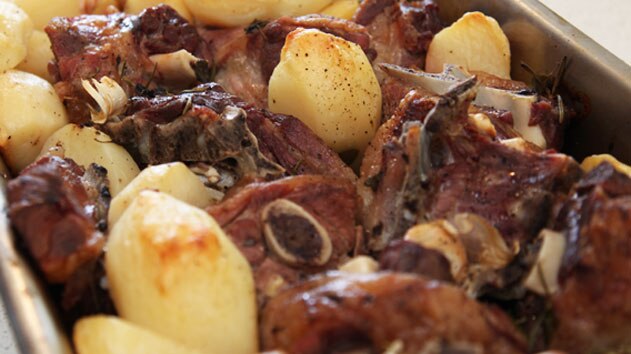 Cuisine:

Cypriot

Prep Time: 15 min(s)
Cook Time: 4 hr(s)
In keeping with the laid-back nature of cooking outdoors in a fourno, there are no specific quantities in this recipe, meaning you can very easily make it for as many or as few as you need. Work on one lamb forequarter and one large potato for each person and scatter the olive oil, herbs, garlic and juice as liberally as you like.

Ingredients
lamb forequarter pieces
potatoes, peeled and halved if large
salt and freshly ground black pepper
olive oil
rosemary leaves
oregano leaves
whole unpeeled garlic cloves
lemon juice
250 ml (1 cup) water
Greek salad, to serve
View conversion table
Preparation
Level of difficulty: easy
Season: Winter

To preheat a fourno (wood-fired oven), light it 2–3 hours before cooking, so the coals burn down to embers and the heat is radiant at about 350°C. If you like meat browned, make sure the oven is hotter at the start (see note).

Place the lamb in a roasting pan. Push the potato in and around meat. Season with the salt and pepper, then drizzle generously with the olive oil. Scatter over the herbs and garlic, then squeeze lemon juice over the meat and add the water. Cover and seal tightly with foil. Roast for 4 hours.

Serve with Greek salad.

Note
While this dish is traditionally cooked in a wood-fired oven, you can also use a conventional oven preheated to 150°C. Increase the cooking time to 5 hours.

SBS cook's notes
Oven temperatures are for conventional; if using fan-forced (convection), reduce the temperature by 20˚C. | We use Australian tablespoons and cups: 1 teaspoon equals 5 ml; 1 tablespoon equals 20 ml; 1 cup equals 250 ml. | All herbs are fresh (unless specified) and cups are lightly packed. | All vegetables are medium size and peeled, unless specified. | All eggs are 55–60 g, unless specified.  
If you enjoyed this Slow-cooked oven-baked lamb recipe (kleftiko) then browse more Cypriot recipes, meat recipes, entertaining recipes, baking recipes, slow cooking recipes and our most popular hainanese chicken rice recipe.
Cypriot Restaurants
Displaying 0 of 0 Cypriot Restaurants.
| | | | |
| --- | --- | --- | --- |
| | Restaurant | Book Online | Suburb |
PLEASE NOTE: All submitted comments become the property of SBS. We reserve the right to edit and/or amend submitted comments. HTML tags other than paragraph, line break, bold or italics will be removed from your comment.
Featured Food & Recipes
Hot Tips
More
Light olive oil
Olive oil can be labeled as "light" however don't be fooled to thinking this means it is light in calories. The "light" label refers to the oil being light on taste or colour - not on fat.
Glossary
More
Praline
A sweet made of almonds and sugar invented for the French Comte du Plessis-Praslin by his cook in the 1600s.