Cypriot sausages recipe (sheftalia)
Created by
Chrys Xipolitas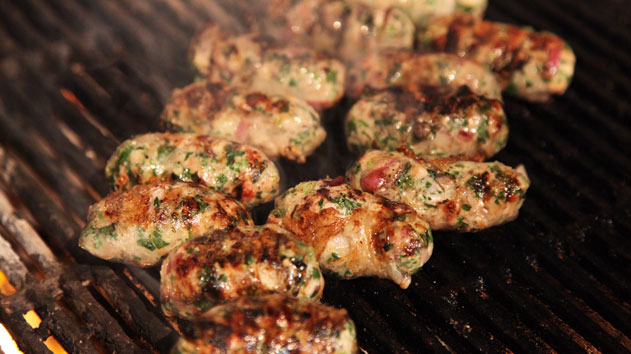 Cuisine:

Cypriot

Prep Time: 45 min(s)
Cook Time: 15 min(s)

Makes 50
Sheftelia is usually served a mezze. Top with parsley, red onion and a generous squeeze of lemon juice and serve with grilled oiled pita bread.

Level of difficulty: medium
Season: All year round
Ingredients
1 kg coarsely ground pork leg or neck mince
4–5 red onions, coarsely chopped
4–5 small bunches parsley, coarsely chopped
1 tbsp salt, or to taste
1 tbsp cracked black pepper, or to taste
washed caul fat (see note)
View conversion table
Preparation
Place the mince, onion and parsley in a large bowl and use hands to mix until well combined. (There should be equal quantities of mince, onion and parsley, so adjust if necessary.) Add the salt and pepper and combine well.

Lay a piece of caul fat on a chopping board. Roll a large golf-ball piece of mixture into an oval shape and place on a corner of the caul. Roll and tuck in with your fingers — the caul fat should cover the mince one and a half times. Cut the caul fat and repeat with remaining mince mixture.

Place sheftalia close together on a hot (but not too hot) grill. Lightly season with salt. Cook, turning and seasoning with more salt, for 10–15 minutes, or until browned and just cooked through. Do not use flames, and do not turn too often or too early as the fat will stick.

Note
Caul fat is the thin, fatty and edible membrane surrounding the intestines of an animal. Upon heating, the membrane melts, while still keeping the sausage intact. The butcher should have washed the caul fat, but it's worth rinsing and soaking it in water again. After soaking in water, drain and soak in vinegar or white wine to remove the smell of blood.

SBS cook's notes
Oven temperatures are for conventional; if using fan-forced (convection), reduce the temperature by 20˚C. | We use Australian tablespoons and cups: 1 teaspoon equals 5 ml; 1 tablespoon equals 20 ml; 1 cup equals 250 ml. | All herbs are fresh (unless specified) and cups are lightly packed. | All vegetables are medium size and peeled, unless specified. | All eggs are 55–60 g, unless specified.
If you enjoyed this Cypriot sausages recipe (sheftalia) then browse more Cypriot recipes, appetiser recipes, meat recipes, entertaining recipes, egg-free recipes and our most popular hainanese chicken rice recipe.
Cypriot Restaurants
Displaying 0 of 0 Cypriot Restaurants.
| | | | |
| --- | --- | --- | --- |
| | Restaurant | Book Online | Suburb |
PLEASE NOTE: All submitted comments become the property of SBS. We reserve the right to edit and/or amend submitted comments. HTML tags other than paragraph, line break, bold or italics will be removed from your comment.
Featured Food & Recipes
Hot Tips
More
Yorkshire puddings that rise
Bring your ingredients (egg, milk and flour) to room temperature before combining. This will help the puddings to rise in the oven, as the warmth will create the steam earlier, thus creating the puff in the puddings.
Glossary
More
Fattoush
A Lebanese summer salad also known as the "queen of salads", combining fresh summer vegetables, dressed with lemon juice, olive oil and sumac spice and garnished with baked or fried pieces of Lebanese bread.