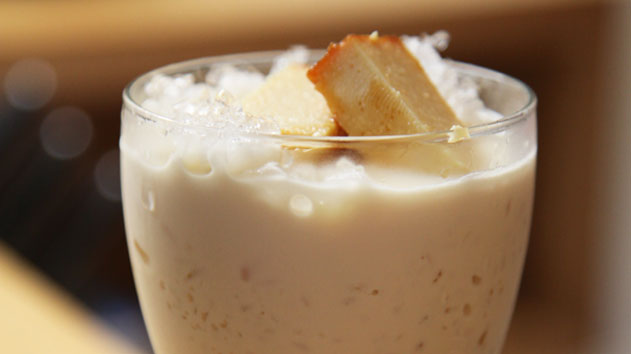 Cuisine:

Filipino

Prep Time: 30 min(s)
Cook Time: 1 hr(s) 5 min(s)

Serves 4
This refreshing recipe for a popular Filipino dessert is created with shaved ice and evaporated milk, plus a variety of other ingredients according to taste. Macapuno is a type of coconut with no water, as it is completely flesh inside.


Ingredients
10 cups ice cubes
½ cup macapuno preserve (see note)
2 x 375 ml cans evaporated milk
Leche flan
110 g (½ cup) caster sugar
6 eggs
375 ml can evaporated milk
395 g can condensed milk
Sweetened bananas
220 g (1 cup) caster sugar
250 ml (1 cup) water
4 lady finger bananas, cut into cubes
Caramel syrup
110 g (½ cup) brown sugar
125 ml (½ cup) water
View conversion table
Preparation
Chilling time: 2 hours
Level of difficulty: medium
Season: Summer

Preheat the oven to 180°C.

To make the leche flan, cook the sugar in a saucepan over medium–high heat, swirling pan occasionally but not stirring, for 3–4 minutes, or until a deep amber caramel forms. Pour into a loaf tin (see note).

Beat the eggs, evaporated milk and condensed milk in a bowl until well combined. Strain through a fine sieve into the caramel-lined tin and cover tightly with foil.

Place the tin in a deep roasting pan and add enough boiling water to pan to come halfway up sides of tin. Cook for 1 hour, or until firm. Remove from oven. Cool, then refrigerate until chilled.

Meanwhile, to make the sweetened bananas, place the sugar and water in a saucepan over medium heat and stir until sugar dissolves. Add the banana, bring to the boil, and cook for 8–10 minutes, or until banana is just cooked. Transfer to a bowl, cool, then refrigerate until ready to serve.

To make the caramel syrup, place the sugar and water in a small saucepan and simmer over medium–high heat for 8 minutes, or until a light syrup forms. Remove from the heat and stand until cool.

To assemble the halo-halo, run a knife around the flan, then invert onto a platter. Cut into 1 cm-thick slices, then cut each slice into 4 pieces.

Using an ice-shaver or blender, process the ice until finely shaved. In each glass, place 2 tbsp of macapuno, 2 tsp of caramel syrup and 2 tbsp sweetened banana, then fill with shaved ice. Pour over the evaporated milk, then top with a few slices of leche flan. Serve immediately.

Note
Also known as coconut sport, macapuno preserve is a sweet condiment made from the macapuno coconut.
You can also cook the flan in ramekins or a llanera, which is an oval–shaped metal pan traditionally used to cook this dish. You will need to adjust the cooking time accordingly.

SBS cook's notes
Oven temperatures are for conventional; if using fan-forced (convection), reduce the temperature by 20˚C. | We use Australian tablespoons and cups: 1 teaspoon equals 5 ml; 1 tablespoon equals 20 ml; 1 cup equals 250 ml. | All herbs are fresh (unless specified) and cups are lightly packed. | All vegetables are medium size and peeled, unless specified. | All eggs are 55–60 g, unless specified.  
If you enjoyed this Halo-halo recipe then browse more Filipino recipes, dessert recipes, baking recipes, prepare ingredients in advance recipes and our most popular hainanese chicken rice recipe.
Filipino Restaurants
Displaying 2 of 2 Filipino Restaurants.
PLEASE NOTE: All submitted comments become the property of SBS. We reserve the right to edit and/or amend submitted comments. HTML tags other than paragraph, line break, bold or italics will be removed from your comment.
Featured Food & Recipes
Hot Tips
More
Fruit and veg
Use fruit and vegetables that are in season. They will look better, taste better and the prices are lower.
Glossary
More
Parboil
To boil vegetables until half cooked. Used to part-cook potatoes and other hard root vegetables prior to roasting them at a high temperature to ensure that the inside is cooked while the outside crisps up well.