Mixed vegetables recipe (pinakbet)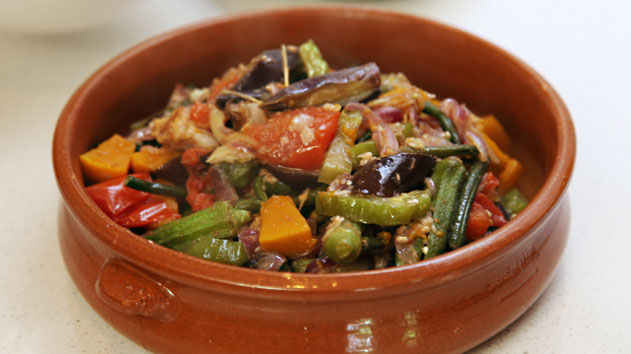 Cuisine:

Filipino

Prep Time: 30 min(s)
Cook Time: 1 hr(s) 50 min(s)

Serves 4 as a side dish
Kabocha is also known as Japanese pumpkin. It is a winter vegetable and tastes quite sweet. It is used in soups, stews, tempura and desserts.

Level of difficulty: medium
Season: Winter
Ingredients
1 bitter melon, halved lengthways, seeded and sliced
salt
50 ml vegetable oil
3 cm-piece ginger, cut into julienne
1 red onion, thinly sliced
4–6 garlic cloves, crushed
3 tomatoes, cut into wedges
4 small slender eggplant, sliced into 3 cm pieces
10 okra
5 snake beans, cut into 5 cm pieces
¼ Japanese pumpkin (kabocha), peeled, seeded and cut into chunks
50–75 g bagoong (Filipino shrimp paste)
100 ml watersteamed
rice, to serve
Bagnet
500 g pork belly, sliced
1 onion, coarsely chopped
2 bay leaves
3 garlic cloves, peeled
30 g salt
vegetable oil , for deep-frying (optional)
View conversion table
Preparation
To make the bagnet, place all ingredients except the oil in a saucepan and add enough water to cover. Simmer over low heat for 1 hour, or until pork is tender.

Preheat the oven to 200°C. Drain the pork, place in a small roasting pan and bake for 30 minutes, or until pork has dried. If you like the pork extra crispy, you can now deep-fry it. Alternatively, chop into pieces and set aside.

Meanwhile, place the bitter melon in a bowl. Sprinkle generously with salt and stand for 30 minutes to help draw out some of the bitterness. Rinse and set aside.

Heat the oil in a pan over medium heat. Sauté the ginger, onion and garlic for 5–6 minutes, or until tender.

Working in layers, add the tomato, eggplant, okra, bitter melon, snake beans and pumpkin to the pan. Spoon over the bagoong, scatter with the chopped bagnet, then pour in the water. Cover and cook over low heat, shaking pan once or twice to ensure bagoong is distributed evenly, for 12–15 minutes, or until vegetables are cooked through but retaining their shape and not mushy. Serve with steamed rice.

SBS cook's notes
Oven temperatures are for conventional; if using fan-forced (convection), reduce the temperature by 20˚C. | We use Australian tablespoons and cups: 1 teaspoon equals 5 ml; 1 tablespoon equals 20 ml; 1 cup equals 250 ml. | All herbs are fresh (unless specified) and cups are lightly packed. | All vegetables are medium size and peeled, unless specified. | All eggs are 55–60 g, unless specified.
If you enjoyed this Mixed vegetables recipe (pinakbet) then browse more Filipino recipes, stew recipes, meat recipes, baking recipes and our most popular hainanese chicken rice recipe.
Filipino Restaurants
Displaying 2 of 2 Filipino Restaurants.
PLEASE NOTE: All submitted comments become the property of SBS. We reserve the right to edit and/or amend submitted comments. HTML tags other than paragraph, line break, bold or italics will be removed from your comment.
Featured Food & Recipes
Hot Tips
More
Herb sense
Coriander and parsley will keep longer if stored upright in the fridge in a glass containing 1–2 cm water and covered with a plastic bag. To ensure dried mint packs a refreshing punch, buy in small quantities from a vendor you know has a high turnover.
Glossary
More
Sambhar Powder
A South Indian spice mix used to flavour sambhar, a kind of dhal or lentil soup served traditionally as a side dish with dosai or other South Indian snacks.