Maltagliati semolina pasta with speck and saffron C2 cheese recipe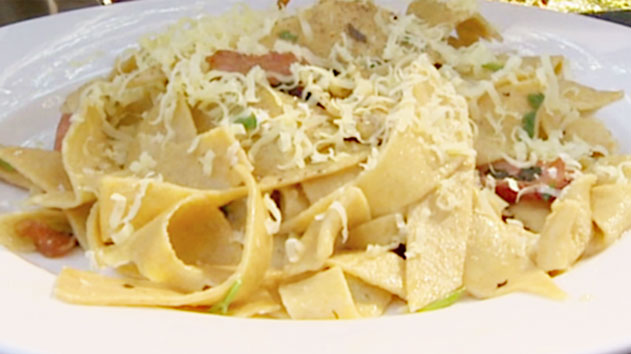 Cuisine:

Italian

Prep Time: 30 min(s)
Cook Time: 10 min(s)

Serves 2
This wholesome simple homemade pasta has a nutty flavour just perfect to pair with the flavours of the speck and cheese.

Level of difficulty: confident cook
Season: All year round



Ingredients
80 g semolina
80 g plain flour
2 eggs
20 g butter
100 g speck, chopped into small lardons
1 tbsp roughly chopped parsley
50 g saffron C2 cheese, grated (see note)
View conversion table
Preparation
Combine the semolina and plain flour on a clean work surface. Create a small well in the centre and add the eggs. Using your fingers, gently combine the eggs with the flour, working it into a dough. (You can always start with a little less flour and then add more if needed.)
Knead the pasta well, until well combined and soft and stretchy. Roll the pasta out thinly and evenly on a lightly floured surface before chopping into rough shapes.

Bring a large saucepan of water to the boil for the pasta. Add plenty of salt. (Italians work on the basis of 10 g salt per litre, which is a bit excessive but not a bad place to work back from.) When the water comes to a rolling boil, add your pasta and cook until the pasta is al dente.

Meanwhile, heat the butter in a deep heavy-based frying pan. Add the speck and fry gently, allowing the speck to release its fat. Once the speck has started to colour, add the chopped parsley and continue to cook over medium heat.

Once the pasta is cooked, drain and then add to the butter, speck and parsley. Gently toss to combine all the flavours before serving. Liberally scatter the grated cheese over the pasta.

Note
If you can't get hold of the saffron C2 cheese, you can use an alternative full-flavoured, hard matured cheese, such as pecorino.

SBS cook's notes
Oven temperatures are for conventional; if using fan-forced (convection), reduce the temperature by 20˚C. | We use Australian tablespoons and cups: 1 teaspoon equals 5 ml; 1 tablespoon equals 20 ml; 1 cup equals 250 ml. | All herbs are fresh (unless specified) and cups are lightly packed. | All vegetables are medium size and peeled, unless specified. | All eggs are 55–60 g, unless specified.

If you enjoyed this Maltagliati semolina pasta with speck and saffron C2 cheese recipe then browse more Italian recipes, pasta recipes, entertaining recipes and our most popular hainanese chicken rice recipe.
Italian Restaurants
Displaying 10 of 2165 Italian Restaurants.
PLEASE NOTE: All submitted comments become the property of SBS. We reserve the right to edit and/or amend submitted comments. HTML tags other than paragraph, line break, bold or italics will be removed from your comment.
Featured Food & Recipes
Hot Tips
More
Break in the pot
Most potjie will be seasoned and ready to use after a quick rinse, however some manufacturers recommend "breaking in" the pot by cooking a few vegetables (some use a whole cabbage) in a large quantity of water for several hours.
Glossary
More
Salted White Raddish
An essential ingredient for pad Thai for its unique taste and soft but chew texture.