Roast lamb, Roman-style recipe (Arrosto di Agnello alla Romana)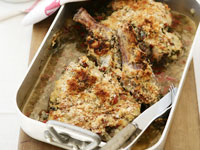 Photography: Tanya Zouev
Cuisine:

Italian

Servings:

Serves 6

Cooking Time:

More than 2 hours

Course:

Main
Ingredients
2kg lamb shoulder, boned, shanks reserved
2 tomatoes, diced
1 small onion, finely chopped
1 cup chopped parsley
1 tablespoon chopped sage leaves
2 teaspoons chopped rosemary
2 cloves garlic, crushed
1 cup (250ml) dry white wine
1 cup (250ml) chicken stock, or water
1 cup (70g) fresh breadcrumbs
¼ cup (20g) grated parmesan
1 tablespoon olive oil
View conversion table
Preparation
1. Preheat oven to 180°C. Place lamb and shanks, tomato, onion, herbs and garlic in a large deep roasting pan. Season well with freshly ground pepper.

2. Add wine and stock or water. Press combined breadcrumbs and parmesan over lamb and drizzle with oil. Bake for 1 ½ hours, until lamb is tender and breadcrumbs and cheese have formed a golden crust.

Tips: To make breadcrumbs, break day-old bread into chunks and whiz in a food processor.



If you enjoyed this Roast lamb, Roman-style recipe (Arrosto di Agnello alla Romana) then browse more Italian recipes and our most popular hainanese chicken rice recipe.
Italian Restaurants
Displaying 10 of 2165 Italian Restaurants.
PLEASE NOTE: All submitted comments become the property of SBS. We reserve the right to edit and/or amend submitted comments. HTML tags other than paragraph, line break, bold or italics will be removed from your comment.
Featured Food & Recipes
Hot Tips
More
Crispy potato pancakes
When making potato pancakes wring out the excess moisture in the potatoes (after you grate them) in a clean, dry tea towel. This will ensure a crisp batter.
Glossary
More
Quesadilla
(pronounced kay-sah-Dee-yah) A corn tortilla filled with cheese (always!) and a variety of other fillings can be added. It is folded in half and cook on a hot plate until crisp and golden on both sides.