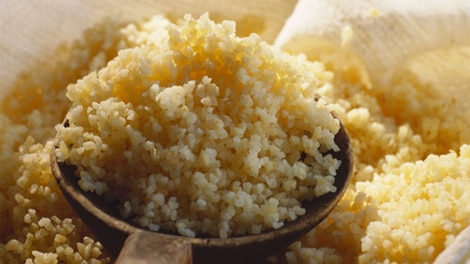 Ingredients
2 cups coarse semolina
2 handfuls of salted water
2/3 cup fine semolina.
View conversion table
Preparation
You will need a large, open dish, a medium sieve (3mm holes) and a fine sieve (1.5mm holes) and a couscoussier or steamer.

Sprinkle the water over the coarse semolina to moisten it. Add the fine semolina and gently combine, adding a little more water if needed. As you combine the two, using the flat of your hand, small beads should begin to form. If you add too much water, add a little more fine semolina.

Rub the grains through the sieve to remove lumps, adding fine semolina if it is too sticky.

Shake the sieved couscous through a 1.5mm sieve. The really fine bits that fall through can be used for sweet couscous. It is those grains left in the smaller sieve that are used for savoury couscous.

Scatter a handful of olive oil over the couscous and rub gently as before to incorporate lightly and evenly.

Scoop the couscous gently into a steamer or couscoussier and steam over rapidly boiling water (or stock) for at least 25 minutes.
If you enjoyed this Couscous recipe then browse more Lebanese recipes, side dish recipes and our most popular hainanese chicken rice recipe.
Lebanese Restaurants
Displaying 10 of 134 Lebanese Restaurants.
PLEASE NOTE: All submitted comments become the property of SBS. We reserve the right to edit and/or amend submitted comments. HTML tags other than paragraph, line break, bold or italics will be removed from your comment.
Featured Food & Recipes
Hot Tips
More
… and keep rust at bay
Like all cast-iron cookware, potjie are prone to rust. When you've finished cooking in your potjie, rinse it with boiling water and little or no detergent, then dry and wipe the inside lightly with olive or vegetable oil.
Glossary
More
Avocado
Avocado is used in salsas and to make guacamole.