White chocolate mousse and raspberry gateau recipe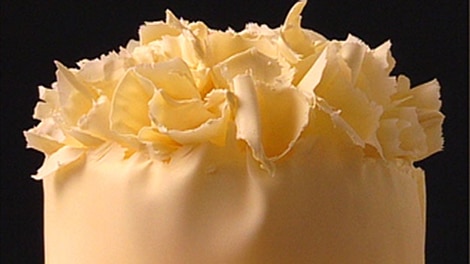 Ingredients
Genoise (Sponge)
5 eggs (55 gr)
100g caster sugar
150g plain flour

Raspberry Jelly Palette
350g sweetened raspberry puree
8g leaf gelatine (soaked)

White Chocolate Mousse
300ml cream
300g white chocolate - finely chopped or discs
8g leaf gelatine (or equivalent weight in crystals), soaked in cold water
600mls cream with 35% milk fat, whipped softly
View conversion table
Preparation
Genoise
Whisk eggs and sugar on high speed to full volume. Reduce speed to medium and mix for a further 3 minutes. Remove from mixer and fold through the sieved flour. Stir only until combined.
Pour into a buttered and floured 26 cm. tin.
Bake at 180oC for 35 minutes.

Raspberry Jelly Palette
Heat puree to simmer, add drained gelatine. Pour into a 24 cm cake tin lined with plastic film.
Freeze until required.

White Chocolate Mousse
Soak the gelatine in water. Boil 300mls of cream and add the drained gelatine. Stir to dissolve. Lay the finely chopped white chocolate in a bowl and pour cream mixture over, stirring until the chocolate is dissolved. Cool the mixture, stirring occasionally. When it is thickened and smooth, though not quite set, carefully fold in 600mls of whipped cream.

To assemble Genoise - sliced into three horizontal sections
300 mls light sugar syrup
White chocolate mousse
Raspberry jelly palette
White chocolate shavings for garnish

Place a 26 cm x 6 cm cake ring onto a serving platter.
Line with non-stick baking paper cut flush to top of ring.
Place one disc of white sponge into base, brush lightly with sugar syrup.
Pour in a layer of mousse. Place a second layer of sponge on top. Brush lightly with sugar syrup. Pour a very fine layer of mousse over the sponge.

Carefully place the frozen raspberry palette onto the mousse, pressing down to displace the mousse around the jelly ring.
Pour another fine layer of mousse over the jelly and spread with palette knife.
Place third layer of sponge upside down and imbibe with sugar syrup then spread remaining mousse over the surface flush with ring top. Chill 5-6 hours or overnight.

Garnish Melt finely chopped white chocolate or discs over a saucepan of boiling water removed from the heat. Pour a small amount onto a marble bench and spread with large flexible knife as it cools until you have a layer about 3 mls. thick. Working quickly with knife, slice a fine layer and place around the cake - you will need several to complete the outside. Then roll the slices to form conical shapes which you place on top of the cake. This will take a number of repeats of pouring, spreading and slicing to make shapes to suit your own creative flair.
If you enjoyed this White chocolate mousse and raspberry gateau recipe then browse more French recipes, dessert recipes and our most popular hainanese chicken rice recipe.
French Restaurants
Displaying 10 of 470 French Restaurants.
PLEASE NOTE: All submitted comments become the property of SBS. We reserve the right to edit and/or amend submitted comments. HTML tags other than paragraph, line break, bold or italics will be removed from your comment.
Featured Food & Recipes
Hot Tips
More
Different paprikas
When using paprika make sure you are using the right variety for the dish you are cooking. The Spanish smoked paprika is ideal for paella, while the Hungarian sweet paprika is quite different in flavour and is ideal for their goulash.
Glossary
More
Oyster Opening
Insert your knife around the hinge that keeps the two shells together, break the membrane that attaches the oyster to the shell, rinse off any excess shell and place the oyster upside down on the shell for presentation.