Hare pie recipe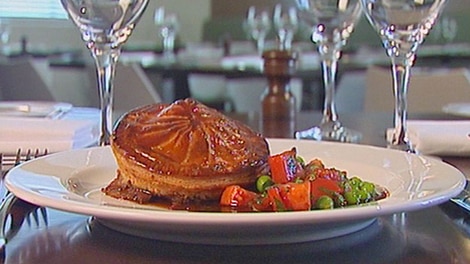 Ingredients
2 fresh hares or rabbits, dissected into legs and saddle (retain the bones and roast for the stock)

The Meat
500 ml red wine
3 large carrots
2 stalks celery
5 cloves garlic
1 large onion
1 tsp juniper berries
5 ripe egg tomatoes
1 sprig thyme
1 tbsp black peppercorns
500 g goose fat

Stock for sauce
300 g butter
3 large carrots
2 stalks celery
5 cloves garlic
1 large onion
1 tsp juniper berries
5 ripe egg tomatoes
1 sprig thyme
1 tbsp black peppercorns
500 ml red wine
Roasted hare bones
500 ml veal stock
1 litre veal stock
1 litre chicken stock

Pastry
500 g savoury pastry
500 g puff pastry
4 egg yolks
View conversion table
Preparation
Clean hares by removing any offal inside. Dissect hares into legs and saddle.
Retain bones, chop and roast for stock.

To make stock (which when reduced becomes the sauce)
Melt butter in a large pot and add half of the chopped vegetables, juniper berries, peppercorns, bay leaves, garlic and thyme, simmer till golden brown.
Add roasted hare bones, chopped tomatoes and 500 ml red wine. Simmer for 10 minutes.
Add veal stock and chicken stock & bring to the boil then skim well.
Turn down to a simmer and cook for 2-3 hours, skimming regularly.
Once a heady flavour is released, strain stock and reduce until the stock shows some body.

For the meatPlace hare legs in a deep roasting pan with the remaining vegetables, peppercorns and juniper berries, thyme and garlic. Make sure legs are fully covered in half the red wine and leave overnight or for 12 hours.

After they have been marinating for at least 12 hours, place roasting tray on top of stove and slowly heat the legs in the marinade. Add sea salt, goose fat, tomatoes and bay leaves, a little chicken and veal stock and cover tightly in aluminium foil.
Place in tray in moderate oven and braise for 1 2 hours until meat is tender.

Remove hare legs from braising liquor. Allow to cool and dice meat from bones. Skim braising liquor off the goose fat and reduce to a gelatinous reduction.
Pour reduced braising liquor over chopped hare meat. Place in the fridge and allow to cool completely. Taste for seasoning.

Place meat into pre-baked pastry shells and seal with puff pastry lids. Glaze with egg yolks. Put in the fridge to set the pastry.
Bake pies at 190C - 200C for 10-15 minutes until golden brown.

Reduce hare stock with some butter then add chopped tomatoes and parsley.
Place a spoonful of reduced stock around the pies and serve with green peas and a puree of parsnip or potatoes.
If you enjoyed this Hare pie recipe then browse more English recipes, pizza, pie and tart recipes and our most popular hainanese chicken rice recipe.
English Restaurants
Displaying 10 of 68 English Restaurants.
PLEASE NOTE: All submitted comments become the property of SBS. We reserve the right to edit and/or amend submitted comments. HTML tags other than paragraph, line break, bold or italics will be removed from your comment.
Featured Food & Recipes
Hot Tips
More
Rice
Rice is a basic staple, always cooked fresh and steamed. The water used to rinse the rice (before cooking) is later used to impart flavour and thicken soups. Leftover rice is also reserved, to be fried with garlic and oil for a dish called sinangag.
Glossary
More
Agar-Agar
Based on seaweed and used as a stabiliser or thickener in many food products, agar-agar is a vegetarian alternative to gelatine. It is sold in many of the large supermarkets in powder form, as flakes and as bars.