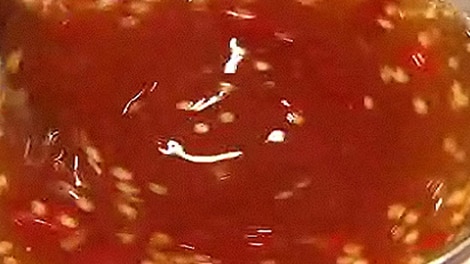 Cuisine:

Vietnamese

Prep Time: 5 min(s)

Makes 1 ½ cups
Nuoc cham is the key dipping sauce and accompanies salads as well as many other dishes. The main ingredient is fish sauce.
Ingredients
1 garlic clove
3 small red chillies
140 ml first-grade fish sauce (nuoc mam nhi)
130 g sugar
2 tbsp water
juice of 1 lemon
View conversion table
Preparation
Pound the garlic and chillies to a paste in a mortar. Combine the fish sauce, sugar, water and lemon juice in a bowl. Stir thoroughly until the sugar has dissolved. Stir in the garlic and chilli paste; the chilli should float on the surface.

SBS cook's notes
Oven temperatures are for conventional; if using fan-forced (convection), reduce the temperature by 20˚C. | We use Australian tablespoons and cups: 1 teaspoon equals 5 ml; 1 tablespoon equals 20 ml; 1 cup equals 250 ml. | All herbs are fresh (unless specified) and cups are lightly packed. | All vegetables are medium size and peeled, unless specified. | All eggs are 55–60 g, unless specified.
If you enjoyed this Nuoc cham sauce recipe then browse more Vietnamese recipes, sauce and dressing recipes and our most popular hainanese chicken rice recipe.
Vietnamese Restaurants
Displaying 10 of 276 Vietnamese Restaurants.
PLEASE NOTE: All submitted comments become the property of SBS. We reserve the right to edit and/or amend submitted comments. HTML tags other than paragraph, line break, bold or italics will be removed from your comment.
Featured Food & Recipes
Hot Tips
More
Lemonade scones
For a simple Devonshire tea make lemonade scones by combining 3 cups of self-raising flour, 1 cup of cream and 1 cup of lemonade. Bake in a moderate oven until golden on top.
Glossary
More
Gai Lan
Gai Lais also is also known as Chinese broccoli and has thick mid-green stems. A very popular vegetable dish in Chinese restaurants, simply steamed and served with oyster sauce.